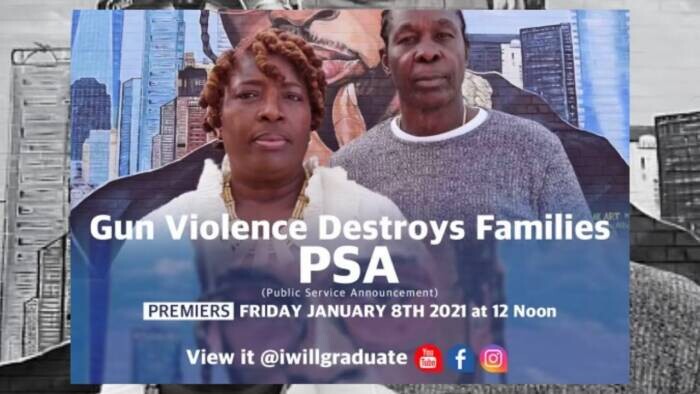 As we approach the anniversary of the untimely death of Pop Smoke, the Entertainers 4 Education Alliance-I WILL GRADUATE Youth Program are asking for media platforms and online outlets to please consider posting this PSA, featuring the parents of the late hip-hop artist. The public service announcement serves as a message for communities to come together to help eliminate gun violence
Since the beginning of 2020, there have been over 1,000 shootings and almost 300 murders in New York City. In response to the uptick in NYC shootings, the Entertainers For Education Alliance – I WILL GRADUATE Program has teamed up with the parents of slain rapper Bashar Barakah "Pop Smoke" Jackson to warn youth about gun violence. Together, they will release a powerful public service announcement entitled "Gun Violence Destroys Families" featuring Audrey and Greg Jackson – mother and father of rapper Pop Smoke. The PSA will provide a deeply resonant message aimed to discourage the youth from shooting each other.
The idea for the PSA came from Tonya Lewis Taylor, the executive director/founder of the Entertainers For Education Alliance – I WILL GRADUATE Program, who was distraught after seeing consecutive news stories about teens being shot across the city. "We needed to get our youth's attention fast and saw Pop Smoke's polarizing music, life and death as a catalyst for positive change," says Ms. Taylor.
"We reached out to his parents who wanted to honor their son's legacy by participating in the video. We want the youth to considerably weigh the cost of their actions. There is no going back after that trigger is pulled. One moment of anger creates a lifetime of pain and anguish for the loved ones left behind."
The goal of the 
"Gun Violence Destroys Families" PSA is to bring more media attention and awareness to the most recent shootings, killings, and violence that have been rapidly increasing in New York City since the COVID-19 pandemic. The PSA gives a chilling reminder of the pain of a mother who lost their son to gun violence. Audrey Jackson says, "I'll never see my son run up the stairs, taking them two stairs at a time. I will never dance with my son again," showing the cruelty left behind in place of a lost one.
In conjunction with the "Gun Violence Destroys Families" PSA, conversations about preventing further shootings spawned an initiative geared toward educating the youth through an 8-week anti-gun violence program called the "Stop the Violence" program. Middle and high school participants will create and implement different solutions to combat gun violence in their communities.
In loving memory of Bashar Barak "Pop Smoke" Jackson.
© 2021, Seth Barmash. All rights reserved.