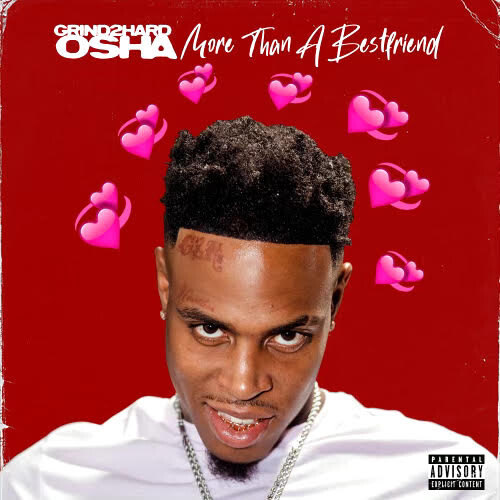 Today, quickly rising and buzzed-about Dallas Hip-Hop artist Grind2Hard Osh'a releases a brand-new track titled "More Than A Best Friend."  The new track is his first new music since the release of his latest project Pain Cobain. "More Than A Best Friend" stays true to a musical style that Osh'a has indeed perfected.  He intersects melodic sounds with the grit and honesty that is unique to hip-hop. "More Than A Best Friend" is the first new music of much more to come from one of hip-hop's most exciting burgeoning artists.  . On the release of the new track, Osh'a states, "More Than A Best Friend" is about someone you bond with on a different level. It's about that special person that brings out the best in you and you reciprocate the energy. You know their flaws; they know your flaws but still neither of you judge each other. You help each other overcome hidden demons that you wouldn't share with anyone else. You can be vulnerable around this person without feeling like they'll take advantage of you. This isn't just someone random, this is about someone you can love, learn from, grow with, build with, and manifest with."
Most recently, Osh'a released the official music video for "Symphony" from Pain Cobain.  "Symphony" is a soulful and emotive hip-hop track that taps into the diverse sound and range that Osh'a has consistently pushed with his latest releases.  The official music video is a performance video that highlights Osh'a in his most authentic element on the stage.  Osh'a racked up 50 million total streams and views and received plugs from WorldStarHipHop and many others.  He tells this story without filter on his 2021 project, Pain Cobain.  Pain Cobain is currently charting on the Top Hip-Hop/Rap iTunes chart. From the project, Osh'a has already released a string of tracks/music videos "Can't Trust a Soul," "Danny Phantom," "Heartbreaks Headaches," "Stranger Danger," "Crazy Mood," and "Help Me Please."  His musical influences range from Michael Jackson, Nina Simone, Luther Vandross, and Tupac to Lil Wayne, Drake, Future, Z-Ro, and Rich Homie Quan.  Osh'a has built an organic following across socials with nearly 170K followers on Instagram and an even bigger following on TikTok where his personality videos often go viral amassing over half a million followers and over 5.4 million likes. He's currently in the studio gearing up to release new music.
© 2021, Seth Barmash. All rights reserved.