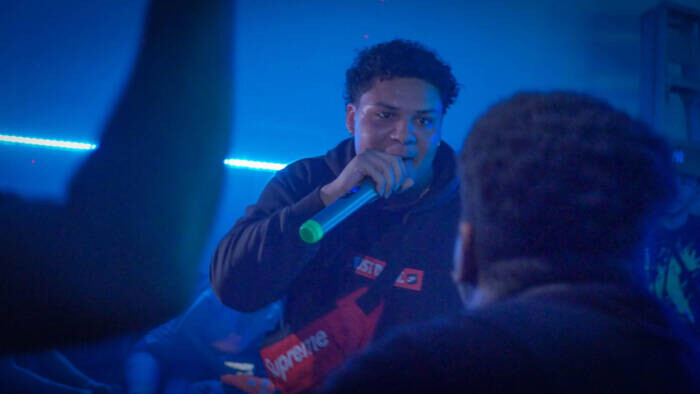 Q: How would you describe your musical style?
A: I would definitely say my music style is versatile just cause the type of music I am able to make. I learned to be more melodic on songs and I am able to sound different on every song so yeah versatile is definitely the description I'd use.
Q: What is the first album you owned?
A: Honestly I have never actually owned an album I never truly actually fell to in love with a full album no artist really actually made me say to myself like "oh I need to buy this album it's fire I need this"
Q: How do you prepare before going up on stage?
A: I've always just really listened to my lineup of songs the whole entire day until I got to the show to perform
Q: Tell us about the first song you made. Was it a success or a failure?
A: My first actual song I recorded was horrible I trashed it so quick no one is ever gonna hear it but the first song I released it was a okay song the song was Mid I think I honestly don't even think The song deserved as many streams as it got I think it got like 13k or something like that so I guess it wasn't really a failure it just taught me and showed me I could be way better.
Q: What is the story behind your latest release "Whoopty Remix"?
A: Honesty it's a funny story I was in the studio with my engineer jay and he was like "bro what you think about that Whoopty song" and I was like "bro the song is cool, I just don't understand how a guy got famous off one verse" then he just said let's remix it and I said bet we wrote the song recreated the beat then fucked the song up like we killed that shit I was hype everyone tells me it's better than the actual song but I don't like comparing because the debates. The song is lowkey blowing up in Australia and the UK tho shout out them man love them for that.
Q: If you could pick one or the other what would you choose, the money or the fame?
A: to be completely transparent, it's always been about money for me I came up through the struggle, went from eviction to eviction never having no heat or no light slept on the floor wit my siblings and mother and pops wasn't in the picture so definitely the money my goal is to retire my mother for good and have my loved ones set
Q: If you could go back in time or in the future which one would you choose and why?
A: I would definitely choose the future because I would be able to see the mistakes I do and stop myself from doing it. The past actually just built me up and made me who I am today so I wouldn't change none of that.
Follow Belchapo:
https://www.instagram.com/ivbelchapo/
© 2021, Seth "Digital Crates" Barmash. All rights reserved.