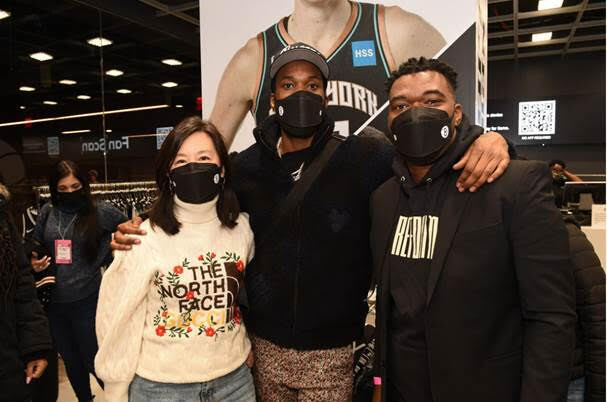 (L-R: Clara Wu Tsai, Meek Mill and Robert Rooks join REFORM Alliance holiday giveback)
REFORM Alliance co-founders Clara Wu Tsai and Meek Mill and REFORM CEO Robert Rooks teamed up with the Brooklyn Nets and New York Liberty this weekend to host a special VIP experience at the Barclays Center for children whose mothers are currently or formerly incarcerated.
REFORM worked alongside various local organizations to invite 26 kids and their mothers to attend the holiday event, including The Ladies of Hope Ministries (LOHM), Pure Legacee, HOUR Children, Inc., We Got Us Now, and Some People Understand Differently SPUD.inc. These organizations offer a number of different services to women and children, including support for women reentering society with dignity through supportive housing, healthy food, mentorship, helping girls and young women heal from trauma related to the criminal justice system, foster care, and homelessness, wrap-around services for mothers and their children during separation due to incarceration and upon the mother's return, and more.
The children were joined by Meek Mill and treated to a shopping spree at the arena's team store Brooklyn Fanatics, then chatted with Nets players Blake Griffin and Patty Mills and General Manager Sean Marks as they watched the Nets warm-up courtside, followed by a private dinner in the arena's premium 40/40 Club where they were joined by Brooklyn Nets co-owner and REFORM Alliance co-founder Clara Wu Tsai; REFORM Alliance CEO Robert Rooks; New York Liberty player Didi Richards; Brooklyn Nets legend Albert King; and music artist Cordae.  After dinner, the group watched the Nets take on the Orlando Magic from the suites.
Earlier this week, REFORM Co-chair Michael Rubin, REFORM, and the 76ers hosted children of parents struggling with the challenges of onerous probation and parole requirements. Both events gave the groups of children a special opportunity to enjoy quality time with their parents and take a break from the stigma and mental health impact the probation and parole systems have on their daily lives.  On any given day, 25% of all people in prison are incarcerated due to a technical violation of their supervision terms, disrupting too many families. Young children are a population often left out of the conversation around the devastating impact of our supervision systems in the United States. REFORM, and the organization's board members wanted to provide an opportunity to lift them up during the time of year meant to spread joy.
ADDITIONAL INFORMATION: REFORM and its Board began this holiday tradition in 2019 (the event was canceled in 2020 due to the pandemic), which provided children negatively impacted by the criminal justice system with a one-of-a-kind holiday experience. The event included a shopping spree at the NBA Store in NYC with Wu Tsai, Meek, and REFORM co-chair Michael Rubin, followed by a trip to watch a Patriots home game and meet with Patriots owner and REFORM co-founder Robert Kraft.
###
ABOUT REFORM
REFORM is committed to transforming probation and parole throughout the United States by changing laws, systems, and culture.  The organization is working to replace America's criminal justice system with a restorative approach that is fair, accountable, and invested in rehabilitation.  Our goal is for people to reenter society with dignity, create meaningful pathways to work, and equip them with the tools to succeed, all while making families and communities safer and stronger.
The nonprofit organization was founded in the wake of the #FreeMeek movement by award-winning recording artist Meek Mill; Philadelphia 76ers partner and Fanatics CEO Michael Rubin; Arnold Ventures co-founder Laura Arnold; entrepreneur and business mogul Shawn "JAY-Z" Carter; Kraft Group CEO and New England Patriots owner Robert Kraft; Galaxy Digital CEO and founder Michael E. Novogratz; Vista Equity Partners founder, chairman, CEO Robert F. Smith; Brooklyn Nets co-owner and philanthropic investor Clara Wu Tsai; and CNN host and activist Van Jones.  Veteran criminal justice advocate Robert Rooks leads the organization as CEO, and, most recently in October 2021, philanthropist, pediatrician, and criminal justice reform advocate Dr. Priscilla Chan joined the organization's Board of Directors.
© 2021, Seth Barmash. All rights reserved.