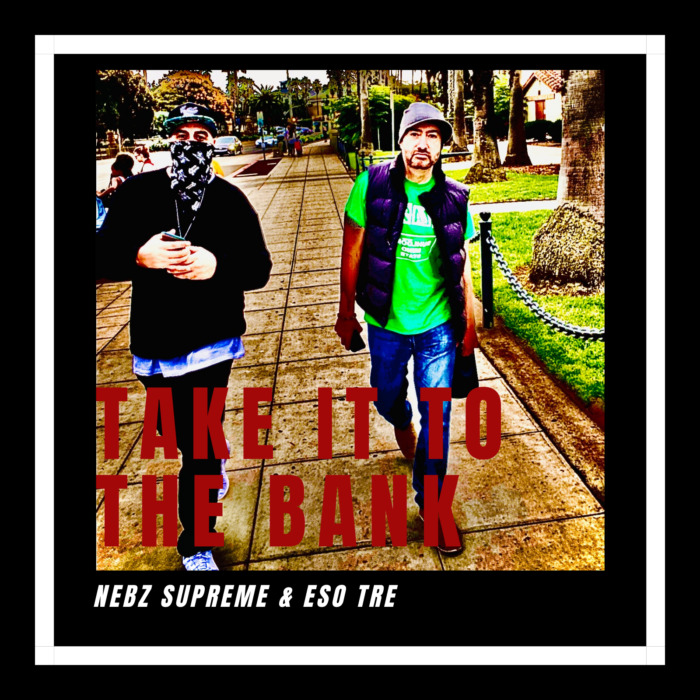 Santa Barbara, California emcee Nebz Supreme and Los Angeles native Eso Tre present the RCKLSS Films-edited music video for "Take It To The Bank", featuring Prince Po of Organized Konfusion and production by Waes One. Prince Po together with Pharaohe Monch brought new styles to underground hiphop in the 90s as the duo Organized Konfusion, while Eso Tre is best known as one half of the powerhouse group Substance Abuse, the former URB Next 100 picks whose 2006 album Overproof (Bandcamp) featured MF DOOM, Saafir, P.E.A.C.E., Kool Keith, Motion Man, Kutmasta Kurt and Rasco, while 2012's Background Music (Spotify) featured Myka Nyne, Tash of Tha Alkaholiks, KRS-One, MC Eiht and Percee P. Substance Abuse followed with Background Music: The Redux in 2016 and Bridges featuring Aceyalone of Freestyle Fellowship in 2018. "It's just a song about spitting truth, and affirming that karma is still real in this strange and sad era when foolishness is at an all time high and accountability is at an all time low," says Eso when asked about the new single. "Take It To The Bank" is out now on Feed The Peeps.
____________________________
www.substanceabusehiphop.com
www.twitter.com/subzandesotre
www.youtube.com/substanceabusemusic
https://instagram.com/substanceabusehiphop
https://www.facebook.com/substanceabusehiphop
© 2021, Seth Barmash. All rights reserved.