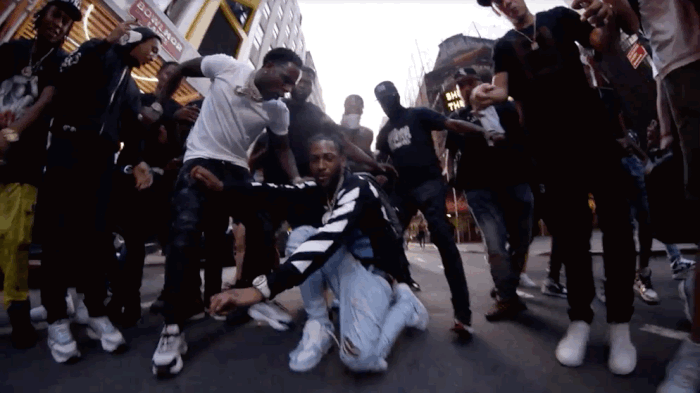 Blessed with serious emcee skills and a boisterous personality, Ron Suno is on a mission to make NY drill fun. Blending his booming Bronx energy with DUSTY LOCANE's fierce Brooklyn attitude, Suno shares "Grabba" (Remix), a new version of his buzzing single. A seismic event in the world of NY rap music, the new remix is a collaboration between two of the biggest breakout stars in the outer boroughs–the comedic Suno and the street-savvy LOCANE have electric chemistry, the Canarsie rapper flexing his wordplay and getting on Suno's wavelength: "You ain't solid, break him like a Kit Kat."
In the video, Suno, LOCANE, and their respective crews take their Outer Borough braggadocio to the heart of Manhattan. The Janoff FIlms-directed video finds the two rappers and their posses making a scene in Times Square, as they block the entrance to a Broadway theater, jump on stopped cars, and mess with tourists. The video for the "Grabba" (Remix) is the latest upward step on the meteoric trajectory of "Grabba," a highlight from Ron Suno's Jokes Up project, which has over 1.4 million video views and is picking up steam on TikTok.
A master of many disciplines, Suno approached the creation of Jokes Up with laser focus, determined to prove his worth as a rapper.  Combining a locked-in flow with snappy lyricism and quips that humorously undercut his bravado, the SBL rapper takes his emceeing to a new level on Jokes Up, nimbly tiptoeing atop skittering hi-hats and going toe-to-toe with some of the finest rappers in the Five Boroughs. The project is home to recent singles like "Winners," a fiery new collab with Brooklyn figurehead Sheff G that has over 1.8 million views on YouTube, "Bandit," a fiercely slick banger with over 1 million YouTube views, and "Drill Zoo," featuring the one-and-only Fetty Wap. Featuring additional appearances from DDG and Jay Critch, Jokes Up is available everywhere via SBL, LLC / EMPIRE.
Ever since dropping Swag Like Mike, featuring hit singles like "SPIDER-MAN" ft. Fivio Foreign,  in 2020, Ron Suno has been on an unstoppable upward rise, collaborating with rappers like DDG and Smoove'L, speaking with XXL and FLAUNT, and co-starring in BK Juice, a new film by his NYC cohort Rah Swish. The sky's the limit for the young riser, who obliterates the boundaries between mediums with his force of personality.
Watch "Grabba" (Remix) ft. DUSTY LOCANE: https://youtu.be/s8FKfmnCyY0
Buy/Stream "Grabba" (Remix) ft. DUSTY LOCANE: https://music.empi.re/grabbaremix
© 2021, Seth "Digital Crates" Barmash. All rights reserved.