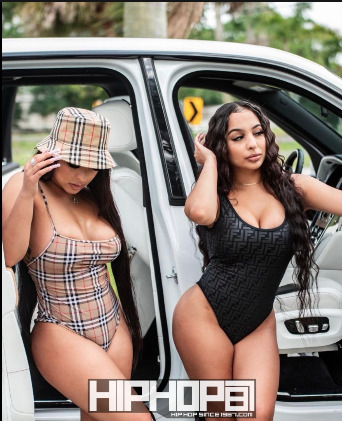 In 2021, the music industry is as competitive as its ever been. With emerging talents popping up almost everyday, it's hard to stand out from the crowd. One group of twin sisters has been able to break through and continually come out with new, fresh, and exciting music. That group is the SiAngie Twins.
The SiAngie Twins are a group of talked females coming out of the Philadelphia area. They have been building up an impressive name for themselves over the last few years and now 2021 is set to take them to another level of success. The twins are signed to DSG Music Group which is owned by their big brother, world famous boxing champion, Danny Garcia, and is distributed by Empire. Recently The SiAngie Twins linked up with HipHopSince1987's own Rick Dange for an exclusive interview. In the interview the SiAngie Twins talk about how they maintained their momentum during the pandemic and how they had to shift a lot of their plans once covid shut everything down. They break down their latest project that they recently released called "Purpose", and speak about how they out it together. They also talk about their latest music videos and their plans for the rest of 2021. The conversation shifts at one point and The SiAngie Twins go in to detail about their clothing line/merch aswell as their web series "Garcia Family Business" which is currently on YouTube.
Trust us, this is an interview you don't want to miss!! Checkout the SiAngie Twins full interview now below!! And be on the lookout for more content from the SiAngie Twins and DSG Music Group.
Checkout The SiAngie Twins latest Mixtape "Purpose" Below!!
https://music.apple.com/us/album/purpose-ep/1571992407
© 2021, RickDange. All rights reserved.