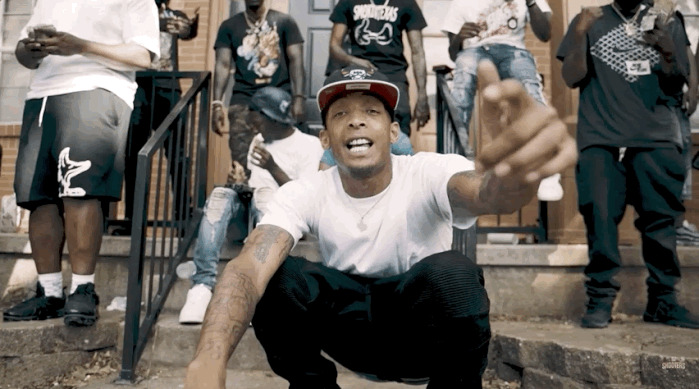 Rising to prominence with his fierce rhymes and sharp Southern drawl, Wacotron is one of Texas's most exciting rappers. Giving a glimpse into his hometown, Wacotron shares "Coastin," his new music video. Produced by Wacotron's frequent collaborator Southside, "Coastin" is a hard-hitting and witty account of Waco's emergence from the gutter, a rise kickstarted by his decision to take rap seriously: "I was coastin'/Remember when I used to be the brokest, I was hopeless/And going through it, they'd never notice/Now I'm focused/Won't stop until my pockets on the swolest, had to show it." In the video, directed by The Shooters, Wacotron returns to the Trendwood Apartments in Waco, Texas, where he grew up and built his reputation, bringing out the whole building to enjoy the fruit of his labors. "Coastin" is the latest high-quality visual from Smokin Texas, following the gritty video for "Hold Up" and the turnt-up video for the Marshmello-produced "Hole In A Cup."
Though Wacotron is a newcomer in the rap game, he's a veteran in the streets, and the 12 songs on Smokin' Texas reflect the hard-earned wisdom of a self-made man. Packed with harrowing stories and sly turns-of-phrase, Smokin Texas benefits from the steady hand of 808 Mafia chieftain Southside, who delivers booming production with the assistance of associates like CuBeatz, Topp, Pyrex, Steezefield, and more. The mixtape also features multiple productions from superstar DJ Marshmello. The new mixtape is home to recent single "Umbrella," produced by Marshmello and featuring a snarling guest verse from G Herbo (nearly 5 million streams since its April 9th release), as well as standout video singles like "Gram And A Hoodie," "Take Off," "Toothpaste," and Wacotron's debut release "Cut Me Up," which has over 3.75 million streams across platforms. Featuring additional production from Johan Lenox and others, Smokin Texas is available everywhere via Pick Six Records/808 Mafia.
A native of Waco, TX–hence his name–Wacotron showed a passion for music from a young age, absorbing the 808-driven trap music he listened to in the car with his dad. After spending years mired in the struggle, Wacotron turned to rap in his 20's, searching for a better way to provide for his family and escape his circumstances. The rapper started to build a reputation in his home state, eventually catching the attention of Pick Six Records, who signed him to a deal and connected him with Southside and 808 Mafia.
With his debut project Smokin Texas, Wacotron proves that he's an artist to watch in the bustling Texas rap scene, putting Waco on the map with his sharp lyricism. Stay tuned for much more from the young rapper in the near future.
Watch "Coastin" (Prod. by Southside & Sacaii): https://youtu.be/LOunJdpCTqg
Buy/Stream "Coastin": https://picksix.ffm.to/coastin
Buy/Stream Smokin Texas: https://picksix.ffm.to/smokintexas
© 2021, Seth Barmash. All rights reserved.