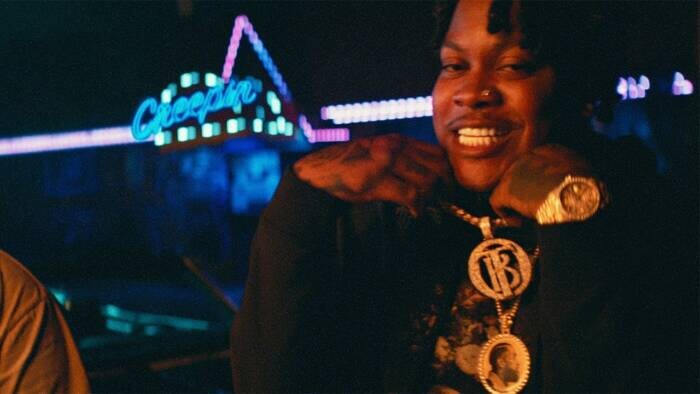 With the release of Sixtape 2, Bino Rideaux's follow-up to his beloved Sixtape series with Blxst, he is riding the high wave of fame and success. The two had their musical chemistry on display in those projects, but Bino decided to reward his fans with a new single of his own. Bino Rideaux, Mustard, and Blue Bucks Clan have teamed up on his newest collaborative track "Creepin'," which will be released today (Aug 6). Bino rides Mustard's smooth beat on the track:
Bino Rideaux has recently been featured on BlueBucksClan's Clan Virus 2 project with the track "Baby". The OUTSIDE project was released last year and featured Mozzy, BlueBucksClan, Young Thug, Ty Dolla $ign, and Fredo Bang, and a video for the Thugger-assisted track was released in September.
Aside from the aforementioned Clan Virus 2, the Blue Bucks Clan has released seven projects in two years after an explosive 2020 campaign. With names like Bino Rideaux, Lil Yachty, and Cash Kidd gracing the track list, this project is sure to be an instant classic. In addition to "Last Minute," with Lil Yachty on board, they also released "Horace Grant," which reaffirms their chemistry. Clan Virus, Going Up, and No Rules 2 were released by the group in 2020.
A staple in the Hip Hop world for decades, Mustard's latest chapter consists of curated albums that demonstrate the artist's versatility. He released a 7-track project this year, Mustard and Friends, with contributions from YG, Ty Dolla $ign, Quavo as well as others who are frequent collaborators. 
© 2021, Jonathan P-Wright. All rights reserved.