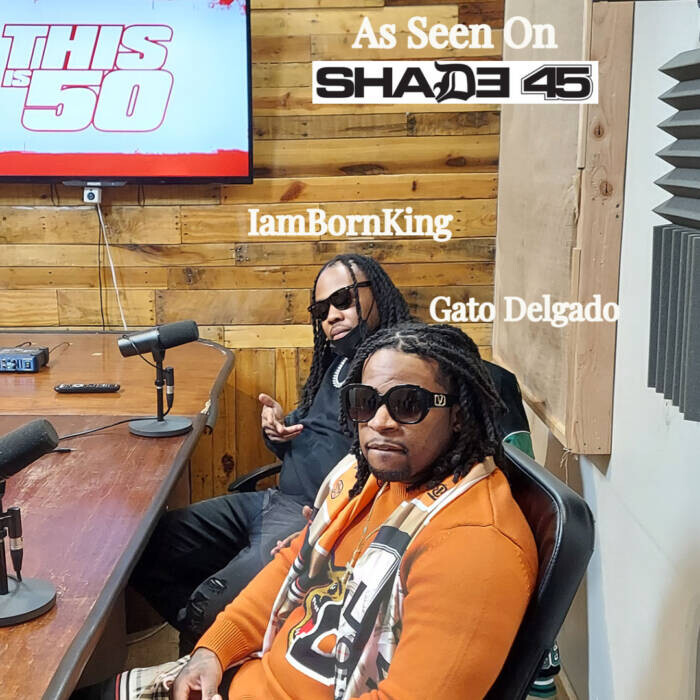 Gato Delgado, real name Tony Thwaites is an American rap artist from Brooklyn, New York. Born in the Bedford-Stuyvesant section of Brooklyn in Woodhull by an Afro-American Father and an West Indian/Hispanic mother. Which explains his diverse style in music and fashion. Gato grew up listening to all genres of music except the genre in which he participates in. Music such as steel pan, soca, calypso, reggae, Latin jazz, etc. However, it was late in his teenage years he found the love for hip hop through his relations in the streets. 
What seemed to be a hobby at first turned out to be a considered passion for a career due to the ruthlessness of the street life. Gato really started to take music more seriously after he was kidnapped in Tamaulipas, Reynosa, Mexico in 2013 for 2 weeks searching for a drug connection that almost ended with his life. He returned back to the United States with at the time he thought was no luck actually turned out to be great luck to still have his life and freedom. 
Gato used this as motivation for his entrance into the music industry but still knew that he needed money to fund his passion. Gato later went to jail for trying to provide for not only his career also for his children in 2014. Several years later at the moment of despair and desperation, Gato linked up with Music Producer Young Trip in 2017 and created his first single "Valentino Walking" which is at 4 million streams in total today. Shortly after the success of his single, Gato's close friend gets apprehended by U.S Marshals on a drug indictment. Which led up to the inspiration behind Gato's next single called"FEDERAL INDICTMENT" which actually at first was just a hook/1 verse freestyle called "bop.gov".In 2018, when Gato found himself in the exact same situation as his friend. Gato Delgado who was once in was also indicted by the Feds and out on house arrest.
Gato then linked up with rap artist by name of IamBornKing and then decided to turn the freestyle "bop.gov" into an actual song "FEDERAL INDICTMENT" due to relating to the circumstances at hand. Shortly after the audio recording they put together a video for the single and within just 10 months after releasing the video and song. "FEDERAL INDICTMENT" hit radio play nationwide gaining an estimated 550k listeners across the nation. The Record has already been heard on Ruff Ryders Radio and is currently spinning on FM stations around the country.
Gato Delagado & IamBornking both have articles on NBC, FOX, CBS news media outlets and been on Shade 45 with Gray Rizzy & Kay Slay. Also, they were featured on Thisis50 with Hynaken & ES$O. The world is being put on notice. The music is catchy, relatable, and has energy. These are NY trendsetters. They will show and prove that they are a good fit for RDG Music Group/KMG/The Orchard in the coming future, and will be a mainstay for sure. Shout out to David "L" Thornton for being the mad scientist behind this creation. 
IAMBORNKING, real name Bertram Payne is from Bed stuy Brooklyn, from an American Mother and Nigerian father. Growing up in the mean streets of Brooklyn survival is key. IAMBORNKING found that he was more than just a survivalist. But that his unique ability to blend melodic Street hymns, with Sharp, witty, exceptional wordplay. Matched with his boyish looks, charming personality, and winning smile. Would make King a prominent presence, and Voice for the young and young black youth of America. After spending 11 years in prison. "King" truly realized his full potential, and decided to go full-time into music, to bless the world with his glorified gift. Soon after his return, IAMBORNKING sought management to help build his brand, and found, then, iheartmedia consultant, David "L" Thornton. at a big talent search he's been doing for various years, called the NEW New York Music Festival that was featuring Power 105's DJ Self that year.  
Afterward, King entered into a two-year contract with David L to be his manager. After a slew of run-of-the-mill events, powered by Respect Da Grind Entertainment, iHeartRadio, Hot 97, and Power 105.1. With celebrity, artist, dj's such as DJ Will, Prostyle, Suss One, DJ Spinking, Honey German, DJ Scenario, Emez, DJ Epps and label rep meet and greets and consultations with such like's as Yaasiel "Success"from Atlantic Records & Ron Stewart from Warner Music. Withstrong relationships and alliances were formed, and David L saw an opportunity to leverage his gang of emerging artists with the relationships built. In particular, were IAMBORNKING and J-Thuro that stood out from the crowd. Where they understood the business aspect of music. Eventually, the three formed the Respect Da Grind Music Group dba RDG Music Group and secured a distribution through KMG/The Orchard, which is powered by Sony Music. As an added bonus, the addition of DJ Shuttle and the discovery budding artist, Gato Delgado, who recently gained notoriety from his song Valentino Walkin, which has 4 Million streams and climbing to date. Gato Delgado and Iambornking both having Federal Indictments collectively came up with the song FEDERAL INDICTMENT. 
There's a story behind the reality of this record that the world needs to hear about. The Feds keep using our words and freedoms of expression for Indictments. With King getting off parole soon and Gato now off the ankle monitor as of December 23rd 2020. The world is being put on notice. The music is catchy, relatable and has energy. These are NY trendsetters. They will show and prove in the coming future, and will be a mainstay for sure. Shout out to David "L" Thornton for being the mad scientist behind this creation. 
You can find the Federal Indictment Record on Spotify:https://open.spotify.com/track/7c8f7uk70T5FmkujY7QXIk
You can find Gato Delagado on Instagram athttp://instagram.com/valentino.papisito
You can find IamBornking on Instagram athttp://instagram.com/iambornkingnyc
You can find Respect Da Grind Music Group/KMG/The Orchard at
http://instagram.com/Respectdagrind
© 2021, Seth "Digital Crates" Barmash. All rights reserved.