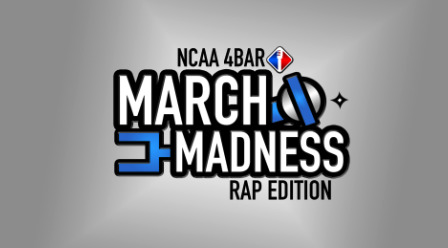 Earlier this March, on the 4th, Joell Ortiz (Slaughterhouse), Rsonist (Heatmakerz), David Evans (Warner Music), and the 4bar App, started the first ever March Madness Team Tournament for rappers!
It started with 16 teams comprised of 64 players from across North America. The teams were ranked 1-16 after the preliminary round on March 4th. The bracket started with the first eight games and the tourney is currently in the Final Four.
The tournament structure is 4 players vs. 4 players, with 4 judges scoring the games. All artist submissions are made exclusively through the 4bar app or 4bar site where the official beats are hosted.
Example game:
Players are only allowed to drop 4 bars each so they need to pack a lot of punch! Teammates string together their 4bar videos. This introduces a new element to Rap: Team Chemistry.
March 24-25: Semi-Finals @ 5 PM
March 31: March Madness Final @ 9 PM
© 2021, MariaMyraine. All rights reserved.