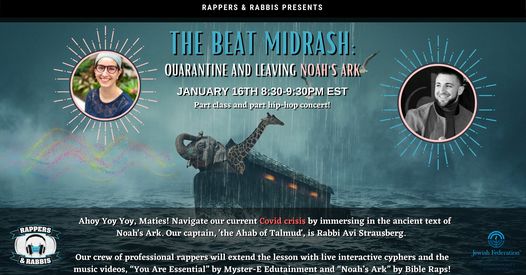 Rappers and Rabbis present The Beat Midrash: "Quarantine and Leaving Noah's Ark" featuring Rabbi Avi Strausberg and Myster-E. After 7 or so month's Noah's family left the ark… Sound familiar? The story of Noah speaks to our current Covid-19 predicament in fascinating ways. Join the conversation with Rabbi Avi Strausberg, Director of National Learning Initiatives, Hadar Institute! The crew of professional rappers and religious leaders will extend lessons with interactive rap cyphers. There will also be a screening of "You are Essential" music video by Myster-E and "Noah's Ark" by Bible Raps. Check it out this Saturday night and stay tuned here to HipHopSince1987.com for programs soon from Rappers and Rabbis!
Time & Location
Jan 16, 8:30 PM – 9:30 PM EST
http://tinyurl.com/rappersandrabbis
https://www.facebook.com/events/836696460500072
© 2021, Seth Barmash. All rights reserved.