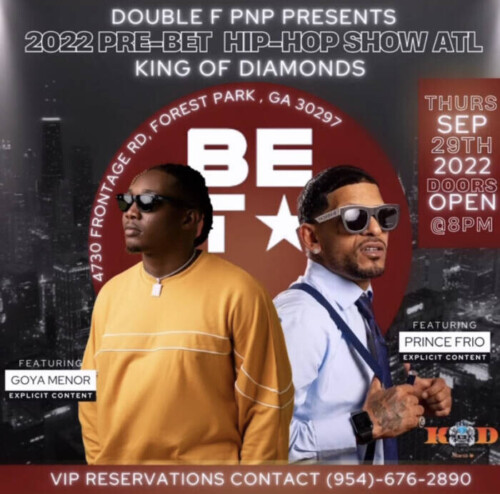 The one and only Frio, the Official Prince of PA, will be traveling to Atlanta on September 29th for a Pre-BET Hip-Hop Show at the King of Diamonds presented by Double F PNP! With the show just days away, Frio along with additional talented artists he has hand-picked, are preparing for an amazing concert!
Goya Menor, a prominent music artist from Nigeria, will be blessing the stage with a mesmerizing energy! He is known by many globally and is looking forward to providing his fans in the U.S. with a great time! Also on the line-up is well known Chicago rapper, 40 da Genius, who has quickly become a fan favorite. He has climbed the ladder as an artist independently and takes pride in his work as a hip-hop artist. His stage presence leaves audiences yearning for more, leading them to his social media for more content!
The crowd will be left in awe by the talent due to perform at King of Diamonds. Additional artists include:
Robby Bankz, Connecticut
Ghost Shaded Bandit, Georgia
ZFZS, Miami, FL
DJ Duke, Baltimore, MD
FashionGodPree
Sean Patrick, Florida
to name a few!
Frio has mentioned the sponsors for the event including, iHeart Radio, Atlantic City Records, Paid Jake, Moguls, Double F PNP, and Empire Records! Frio's latest single, "Gottem Upset" featuring A$trokid, has sent shock waves through the music scene, allowing him to offer fellow independent artists a performance in the spotlight! Frio has certainly come a long way with no intention of slowing down! Be sure to follow him on Instagram and stream his music!
FOLLOW FRIO ON INSTAGRAM<—– CLICK HERE!
© 2022, Julz Mancini. All rights reserved.