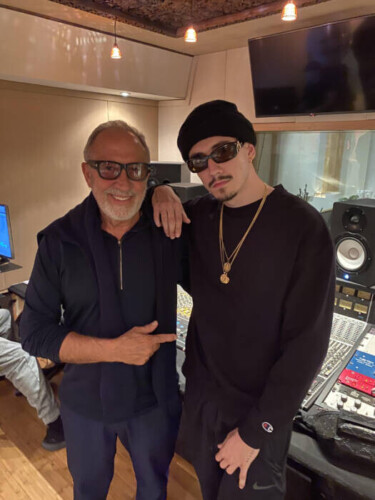 Emilio Estefan and Apollo Lofton
After receiving a co-sign from Drake, most say he will be the next one to come out of Miami, FL.
Apollo is one of those songwriters who manages to touch old and new places simultaneously in his audience's imagination. His focus on wordplay reignites the purity of rap that once reigned supreme, while his observant nature makes him a strong candidate to voice the fears, joys, anxieties, and hopefulness of his generation. He is the offspring of Miami's larger-than-life attitude with the influence of legends like Jay Z, J. Cole, Eminem, and Nas. The future is looking bright for Apollo.
Apollo is prepared to release his newest project 'Chaos Is Necessary' on December 12th. This is a big story in hip-hop for the Cuban artist who looks to have another big year as he continues to progress in his career.  People should know more about Apollo who is preparing to set Miami on the map. Recently, Apollo also had the opportunity to meet with Emilio Estefan to discuss the future of his music career.
© 2022, Seth "Digital Crates" Barmash. All rights reserved.