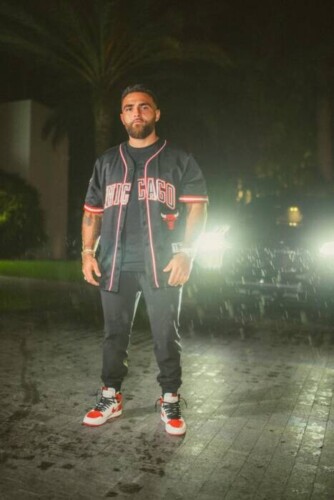 1. Where are you from?
Philly, now based in miami
2. When did you start making music – and what or who were your early influences?
I have been playing guitar, piano, and drums since a young age, all self taught. I used to sing along to music, then discovered instrumentals and started creating my own lyrics to songs. My first time recording something was a project in school with Shanko. We had the option to make a powerpoint, an essay, or a song about Titian, the Renaissance painter, and we chose to make a song. Years later, here we are, doing what we still love, and better than we've ever been. Early on, my influences were Stevie Wonder, Stevie Ray Vaughan, Muddy Waters, Buddy Guy, BB King, Biggie, Jay Z, Lil' Wayne, Jack White, I was all over the place with my taste.
3. What skills do you think artists need to be successful?
Financial literacy, confidence, talent, image, networking.
4. How do you stay up to date with the latest music trends?
I've spent a lot of time diving into what's new, really just for me, but additionally I get to come across what people are doing with their melodies and cadences and get to enjoy other peoples' processes.
5. When performing, what techniques do you use to engage the audience?
I like to give the audience that listens to me a real experience, leaving like they got to know a big piece of me.
6. What would you say is the most rewarding part of being an artist?
I've gotten videos from people in my DMs singing along to my songs that I wrote and there is a very special irreplaceable feeling to see them feel like a part of my song.
7. How did you spend your lockdown/pandemic time? What did you accomplish before the entertainment world began to open up again?
I spent a lot of my lockdown time doing country-wide motorcycle trips, with multiple trips of 600 miles a day. No music, just me and nature. I came back and wrote some of my best songs in that time period. I have accomplished a relationship with myself and such confidence in what I want to do with my life that distractions became irrelevant to me.
8. What makes you different from other artists?
I have a diverse vocal range, and an ability to tap into multiple categories of music. I am entrepreneurially driven, and have been independently creating my brand and constantly improving the mission statement.
9. Who is your dream collab? Dead or alive.
Dream collab is a beat produced by Jack White, Chris Stapleton, and Dan Auerbach, with me and J Cole on it. For sure there are much more, but this one would be something special.
10. What is your biggest accomplishment musically?
My first song, Like That, has made it to the Billboard Charts under "most added." I hope to achieve many more accomplishments with the new music I have in store.
Also, when I was 19, I met Korrupt and ended up having to rap for him with no instrumentals, nothing. He was absolutely shocked by my performance and we chilled for 5 hours after that and talked about life.
11. Describe your favorite and least favorite part about being a musician. My favorite part about being a musician is being able to meet with like minded people and tap into melodies and lyrics that just get created out of thin air. It really shows that this stuff lives in the soul.
My least favorite part about being a musician is that I have to leave it when there are other important things going on in my life that I must show up for, but even then when I get to come back to the studio and continue, it feels like God didn't let me miss anything.
12. When not making music, where can we find you?
I spend my valuable time away with family, making sure to be present for them no matter what. We like to play sports together, go bowling, crush some golf balls at topgolf, as long as it's together we have fun.
13. Tell us about any upcoming releases
My upcoming releases have a few singles that will be coming out one at a time. Some really good ones coming soon are titled Trust Issues, Full Grind, and What I Need. Seriously good music. Can't wait to let people listen!
IG: https://www.instagram.com/baby_jeweler/
TikTok: https://www.tiktok.com/@babyjeweler
© 2022, Logan. All rights reserved.