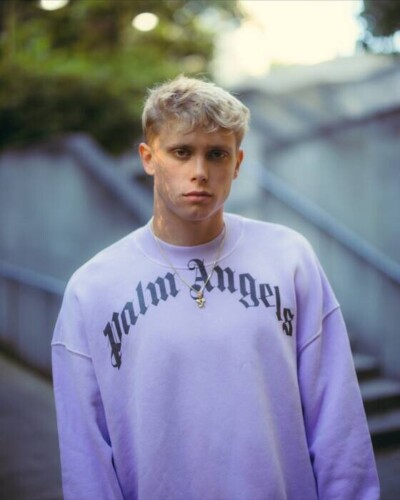 One thing charlieonnafriday is going to do is create a vibe. In his latest single "Enough," Charlie combines a rapper's flow with pop instincts — crafting a melodic, low-key banger about ending a relationship that no longer serves him. His delivery is defiant, holding his head high as he serves up bars like, "Had to walk away from all the lies/I think that it's time for me to rise again." After all, the "Onna Friday" ethos is a keep-moving-forward mentality about knowing tomorrow isn't promised so there's always a reason to celebrate like it's a Friday. By the time the song is over, Charlie is already on to better things.
"Enough" follows the Seattle rapper's breakout single "After Hours," and ONNAFRIDAY EP that featured Kidd G and Lil Keed (rest in peace 
). Charlie was already on the map in Seattle, being mentored and close friends with his childhood hero Macklemore, but the success of ONNAFRIDAY put him on the map globally as he's amassed over 12M likes and 1MFollowers on TikTok and 1.5M Monthly Listeners on Spotify.
To understand charlieonnafriday and where he's headed, it's important to go back to where he started. Raised in many neighborhoods in and around Seattle, but noting the Greenlake neighborhood as his home, Charlie says, "I just like capturing moments."
When COVID hit in 2020, Charlie was a junior in high school and started thinking big-picture about what he wanted to do with his life. He reflected on what brought him the most joy and knew music was it — specifically, continuing the lineage of iconic artistry that comes out of a city like Seattle. And then he manifested a career. By his senior year, he focused his songwriting and landed a hit with the slow banger "After Hours." The song distilled the essence of the party, connecting with young people all over the world, as well as older adults remembering the good old days.
From there things happened fast. Just a few months later, Lil Keed wandered into the studio where Charlie was recording in L.A., heard what Charlie was working on, and demanded a track together immediately. They made "Misfit," right on the spot, and Charlie calls it, "one of the craziest experiences of my life." That was lucky timing. But writing anthems like "Colorado Boulder" with Kidd G, about college girls who blow all their money on "Titos and weed" — that's not luck, that's a skill.
For Charlie it all comes back to the genesis of Seattle and that penchant for bottling life; "I'm not the same person I was in high school," he says, having seen the world a few times now. "But I'm still making songs in my bedroom. I'm still capturing moments. And hopefully, people want to live through what I capture."
© 2022, Seth Barmash. All rights reserved.