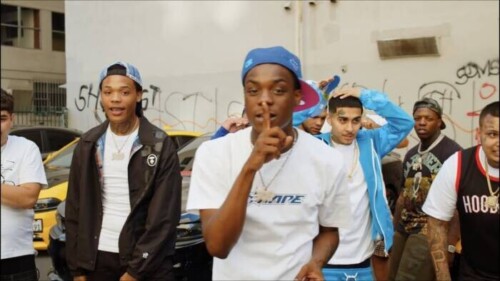 On a mission to make drill more fun, the DCG Brothers have magnetic personalities that few can match in the Chicago scene. Today, the teenage sibling duo, comprised of DCG Bsavv and DCG Shun, collaborate with Los Angeles rapper MoneySign $uede on "Get Money," the DCG Brothers' first new single since their Jungle Life mixtape.
The No More Heroes-directed video, "Get Money" finds Bsavv and Shun flexing their endless stacks of cash and their ambition to keep it coming, while they mob in a Chicago parking lot filled with luxury cars. MoneySign Suede brings a West Coast flair to the track, shoving racks in his doubter's faces as he sits in a matte black Rolls Royce. Meanwhile, the brothers tell the opps to "put their mouth where their money is," as they show off the icy DCG chains and Bape streetwear their money has already bought them.
"Get Money" marks DCG's first new single since their Jungle Life mixtape was released in April. Home to the hit single "Stomp," featuring Chicago legend G Herbo (1.5 million YouTube views), Jungle Life takes a raw, unfiltered look at the group's home neighborhood, while showcasing the percolating chemistry that helped them escape their circumstances. "Growing up in a real jungle around savages and seeing crazy things, basically meeting different types of people and associating them with animals," say the DCG BROTHERS. "RATS, SNAKES, GORILLAS, & EVERY DAY IT'S A SURVIVAL IN THE JUNGLE." Featuring additional appearances from BIG30, B-Lovee, and frequent collaborator Msavv, Jungle Life is available everywhere via No More Heroes/Atlantic Records.
© 2022, Seth "Digital Crates" Barmash. All rights reserved.