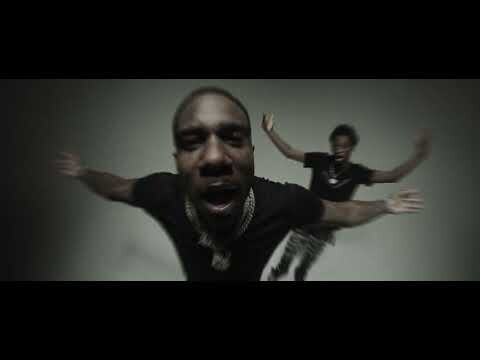 DUSTY LOCANE obliterates instrumentals with his booming basso delivery, commanding each track like a drill sergeant in boot camp. Joining forces with another rising star from his home borough, the Brooklyn bruiser shares "WRAP EM UP," a scintillating new video. On "WRAP EM UP," DUSTY goes back and forth with 41 standout TaTa, his gravelly charisma providing the perfect counterpoint to TaTa's manic energy, as they sing each other's praises: "No cap, the knocker make him lift/And I'm with Dusty posted on the 5th," says TaTa. The video finds the drill duo strutting their stuff in a graffitied soundstage, flanked by Brooklyn baddies and an emerald green Lambo as they energetically perform their verses.
"WRAP EM UP" is a highlight from  NIGHTMARE ON DA FIFTH, a sinister project that dropped on Halloween. The new tape continues to cement the Canarsie native's chokehold on the Brooklyn drill scene, while also taking the time to showcase the talents of DUSTY's 95MM crew, including 3Kizzy, Kajun Waters, who recently teamed with DUSTY for the new banger "Chevelle," SFIV5, Stelly Hundo, and OMB Jay Dee. Home to highlights like "PRESSURE" and "FLU GANG," and the buzzing single "ROLANDO 2 (Catch The Rain)" (1.1 million views in 2 weeks), NIGHTMARE ON DA FIFTH is available everywhere via EMPIRE.
NIGHTMARE ON DA FIFTH continues a busy year for DUSTY LOCANE. He recently teamed up with his EMPIRE associates Rah Swish, OnPointLikeOP, and Ron Suno for the fierce SAY DAT EP,  home to peerless posse cuts like "BUST DOWN" (1.2 million views) and "ANGELS & DEMONS" (1.1 million views). Earlier in the year, DUSTY dropped the ROLLIN N CONTROLLIN EP, which collected each installment of DUSTY, "ROLLIN N CONTROLLIN "  singles, including the recent "ROLLIN N CONTROLLIN Pt. 3 (BEEN ROLLIN)," it's TikTok-viral predecessor, and the GOLD certified original. The EP also featured his second-ever single, "Rolando (Caught In The Rain)," which generated hundreds of millions of streams across platforms.
With his suvies at his back and much further to rise, DUSTY LOCANE is well on his way toward taking over the Brooklyn scene.
© 2022, Seth "Digital Crates" Barmash. All rights reserved.