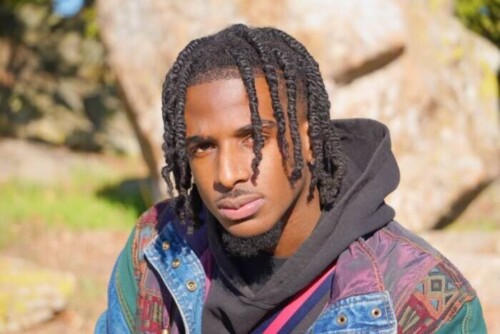 In the music and entertainment industry, many talented individuals strive for a chance to perform under the spotlight. But not everyone shares the same goal, and some prefer to use their talent in the background. For Calvin Lewis, best known in the industry as Kiwiuh, the thrill of the stage comes from dancing for artists.
Hailing from the Bay Area, Kiwiuh has been making the rounds in live performances and music videos. He has already lent his talent to artists like Nef the Pharaoh, Priceless Da Roc, DMAC, and Heaven Marina. The entertainer's participation in several gigs have also attracted the attention of directors who reached out to him with opportunities to appear in several music videos.
People unfamiliar with the talented dancer may have a light bulb moment after watching Priceless Da ROC's "Welcome To The Left Coast" video, where he can be found performing in a black hoodie. One of his early works has him performing with the crowd in Dmac and Myles Parrish's music video for "Do It." Kiwiuh would later collaborate with Myles Parrish for two other music videos, "Go" and "White Tee."
Before striking on his own, Myles Parrish performed in a famous duo called Kalin N Myles, and the singers had asked Kiwiuh's entertainment group, TheYayFamily, to participate and perform in their annual event "Happy Holidays" in 2018. TheYayFamily has also been featured in a dance video that generated over 1.3 million views for artist BLOCBOY JB's official dance video challenge, "Shoot." From there, more opportunities started coming Kiwiuh's way.
While Kiwiuh has been slowly building his name in the entertainment scene, the dancer has also been making the waves online. He has been releasing clips of himself dancing on various platforms, all of which has been gaining traction. Kiwiuh's skills have even earned him viral fame, leading to features in Yahoo News. The dancer is especially active on the Twitter space, where he has been making funny, thoughtful, and relatable posts. In the past two weeks alone, Kiwiuh has generated over 12 million impressions among followers and users who see his tweets. Outside of Twitter, Kiwiuh has been blowing up on the TikTok platform with a massive following of over 60,000. His videos have also been a hit among fans and dance enthusiasts with one clip going viral, generating more than six million views.
Kiwiuh has also been busy with other endeavors, working to establish his up-and-coming clothing line called Kiwiscove. The line offers silk-lined hoodies designed by the dancer. Since the establishment of his brand, Kiwiscove has been generating a lot of noise online. When he isn't busy with his entrepreneurial pursuits, the dancer provides marketing support, helping global rapper e40 take his platform to great heights. Outside of dance and running his own clothing line, Kiwiuh has also delved into the music industry as an artist. Earlier this week, he released three tracks from his EP Kiwiscove Volume 1.
With more opportunities heading his way, Kiwiuh is confident that he will take his platform even further as he hopes to inspire others who dream of following a similar career.Learn more about Kiwiuh by following him on Facebook, Instagram, and Twitter.
© 2022, JS. All rights reserved.