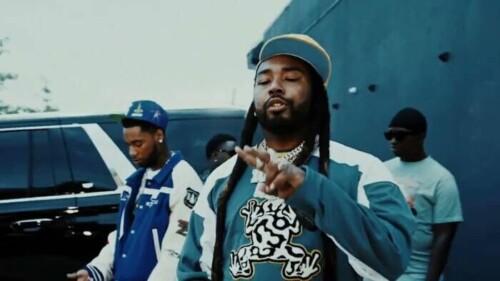 An ambitious and clever slick talker with an ice-cold flow, Icewear Vezzo commands respect from hustlers across the nation. Teaming up with one of the few flexers who can match his status, Vezzo connects with Key Glock for "Whatever," his new music video. Over an intimidating instrumental from Cashout Beats, Vezzo and Key Glock speak on their casual extravagance, explaining how their unlimited budget makes shining ordinary: "Five M's, yeah, I'm up like I'm Carti/Five bucks for the Cartis/Icy, them buffies is sparky/Pour up, got a cup full of Wocky," intones Icewear Vezzo. In the video, Vezzo and Glock gather their posses, including Paper Route Empire's own Big Moochie Grape, as representatives from two of the hottest rap scenes in the country make themselves at home in Vezzo's native 6 Mile. "Whatever" is a highlight track from Rich Off Pints 3, the concluding chapter of Vezzo's successful mixtape series, released last week.
He's already a Detroit legend, but Rich Off Pints 3 continues to further Vezzo's influence beyond The Mitten. The project hosts 2021 hits "Up The Sco" ft. Lil Durk (22 million views) and "Know The Difference" ft. Lil Baby, plus new hits that include fiery collaborations with Key Glock ("Whatever"), E-40 ("Had To"), and G Herbo ("Play For Keeps"). Featuring an additional appearance from fellow Detroit heavy hitter Baby Money, Rich Off Pints 3 is available everywhere via Iced Up Records.
Rich Off Pints 3 concludes a chapter in Vezzo's career but marks the start of an exciting new period of success for the budding superstar. Consistently racking up more than 4 million streams on his catalog per week, Vezzo's ambitions reach far beyond music, and even beyond the physical realm. The Iced Up Records CEO is a serial entrepreneur, starting his own businesses in fields as diverse as real estate, cannabis, and snacks (Vezzo's We Eatin! brand recently dropped Vezzo Hotz, new snacks in stores now), and jewelry maintenance. Vezzo is on track to be a pioneer in the burgeoning metaverse, with his own VezzoVerse launching soon and a forthcoming line of NFTs.
With limitless ambition and the work ethic to achieve his every desire, it's only a matter of time before Icewear Vezzo takes over the game.
© 2022, Seth "Digital Crates" Barmash. All rights reserved.