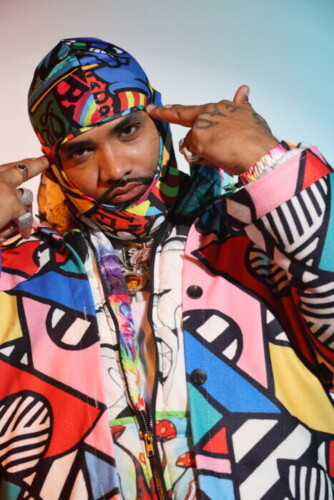 Today, two-time Grammy-nominated hip-hop artist and entrepreneur Joyner Lucas announced an innovative opportunity to give an aspiring artist from each stop of his upcoming "ADHD Tour" the chance to perform on his headlining set.
To secure a performance slot, artists will need to sign up for Joyner's startup platform Tully, upload the song they wish to perform on the "ADHD Tour" if selected, and complete their Tully profile so Joyner can contact all winners directly to coordinate next steps. Prospective participants can go to https://www.tullyconnect.com/adhd-tour-opportunity to learn more.
The New England native will kick off his cross-country, 18-stop tour with West Coast rapper Symba in Minneapolis on Sept. 16 and wrap in Phoenix on Oct. 12. In the coming weeks, Joyner will select a winner from each city and give a total of 18 different artists and opportunity to perform with him on stage.
For Joyner, the goal is to provide emerging artists with a national platform to showcase their skills, expand their fanbase and receive exposure in front of music industry executives, marketing professionals, reporters, and more.
The announcement comes shortly after Bobby Shmurda described Joyner as the "Master P of Our Generation" during a recent interview with The Party Starters Podcast. During the interview, Bobby contextualized the comment by shining a light on Joyner's journey as an independent artist.
Joyner and his business partner Dhruv Joshi co-founded Tully in 2015 as a way to streamline the creative music process through digital tools. The duo partnered to build tools to directly impact Joyner's independent music success and now are sharing this with more artists, to keep artists in full control of their music careers. With guided workflows, structured asset management, templated industry contracts, publishing, and licensing support, Tully provides a 360 suite of tools for artists to manage and grow their careers.
Beyond offering music distribution, Tully boasts management features to save contracts and split sheets along with songwriting tools for artists to play, write and record music. All this functionality is available on a mobile app and is used by Joyner, who himself is an independent artist. With Tully, independent artists are poised to receive 100 percent of their royalties, have access to royalty-free beats, have digital copyrights of their creative work, and more.
During the height of the pandemic in April 2020, Sony Music Entertainment announced a strategic investment into Tully and announced an expansion of features at the end of 2020.
2022 ADHD TOUR DATES: 
Fri Sep 16 – Minneapolis, MN – Varsity Theater
Sat Sep 17 – Madison, WI – The Slyvee
Mon Sep 19 – Chicago, IL – House of Blues
Wed Sep 21 – Detroit, MI – St. Andrew's Hall
Sept 23 – Philadelphia, PA – Union Transfer*
Sept. 24 – New York, NY – Citi Field
Sun Sep 25 – Silver Spring, MD – Fillmore Silver Spring
Tue Sept 27 – Orlando, FL – Beacham Theater*
Wed Sept 28 – Atlanta, GA – Center Stage*
Fri Sept 30 – Dallas, TX – Studio @ the Factory*
Sat Oct 01 – San Antonio, TX – The Aztec Theater
Sun Oct 02 – Austin, TX – Empire Garage
Wed Oct 5 – Denver, CO – Cervantes Masterpiece Ballroom*
Fri Oct 07 – Salt Lake City, UT – The Depot
Sat Oct 08 – Las Vegas, NV – House of Blues
Mon Oct 10 – San Diego, CA – The Observatory
Tue Oct 11 – Los Angeles, CA – The Wiltern
Wed Oct 12 – Phoenix, AZ – The Van Buren
© 2022, Seth "Digital Crates" Barmash. All rights reserved.