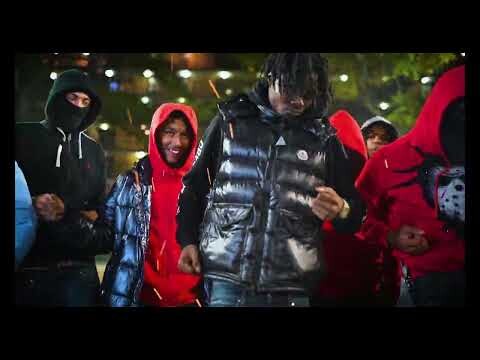 Bursting out of NYC with the explosiveness of an elite edge rusher, Kenzo Balla is applying pressure on his mission to run up a sack. With his borough on his back like a last name on a jersey, Kenzo returns to share the new video for "No Sympathy" from his recent Mr. Ready To Blitz project. Over dizzying production from Spinback and Ron.Adg, Kenzo spits with a game-ready fury on "No Sympathy," delivering each cautionary flex with a hard-nosed intensity: "Ballin' on n****s, I ain't talking scrimmage."
The video for "No Sympathy," shot by SozeCinema, positions Kenzo as the captain of his team rallied behind him throughout the video. The Richard Sherman to his own Legion of Boom, Kenzo's the only one who's visage is unobscured by hoods and balaclavas, making it clear he's the face of this pack. With quick cuts and transitions to match the track's rapid pace, "No Sympathy" plays out less like a music video and more like the hardest-hitting highlight reel of the season. The video for "No Sympathy" arrives as Kenzo prepares for Mr. Ready To Blitz (Deluxe), coming on December 16th.
Mr. Ready to Blitz saw Kenzo leverage his devastating explosiveness across 14 tracks, including recent singles like the high-octane, NPR-approved "Krash Out," and the Cito Blick and Pdot Savv-assisted "Don't Panic." On "Feel The Rage," Kenzo bursts onto an endearingly melancholic drill instrumental with the headstrong momentum of a mammoth nose tackle like Vince Wilfork, while more fast-paced cuts like the Rayy Balla-featured "Go Kuu" highlight Kenzo's elusive agility as he flashes through instrumental pockets like Troy Polamalu. Like all the most elite defensive rushers in the game, Kenzo's strength lies in his opponent's inability to contain him– in the split second it takes to register his arrival on the track, he puts himself 10 steps ahead.
A rising name in one of the nation's busiest rap scenes, Kenzo Balla made his mark on the scene with his relentless rhymes and high-energy vocals. Known for collaborating with fellow Bronx heavyweights like his brother TG Crippy, Kenzo kicked off his career with a frenzy of fiery videos, including local hits like "5th To Sev" ft. TG Crippy & Pdot Sav (2 million video views), "OOTAZ," and the "Love Nwantiti"-remixing "Let Me Know" (1.8 million views). This summer, the former AAU baller tore up the streets with "Dead Gzz," a vicious, uptempo missive that racked up over 1.3 million video views since its release in June.
With a blistering EP in the books and the Deluxe on its way, Kenzo Balla emerges from his perch in the Bronx to blitz the rap game. Sit back and watch his rise, because there's no stopping it.
© 2022, Seth "Digital Crates" Barmash. All rights reserved.