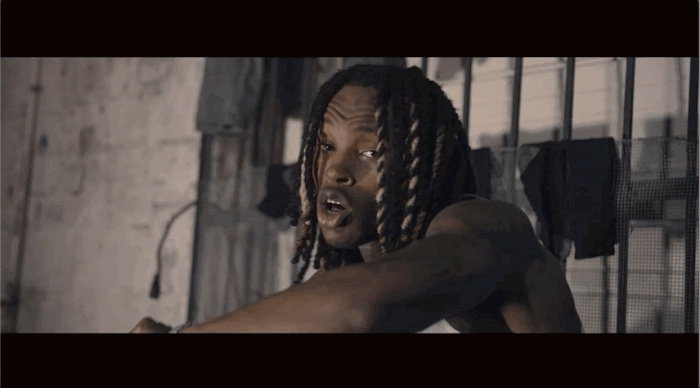 With a visual eye that helped him rack up over 2.8 million YouTube subscribers, King Von always accompanied his crazy stories with videos that matched the song's vibe. Today, King Von's estate shares the video for "Too Real," a highlight from the new posthumous album What It Means To Be King. The song is an impassioned missive from Von, as he rocks a stutter-stepping flow and makes plain that he's the realest in the streets: "I asked once won't ask again/Know who you dealing with/If I crack once won't crack again/Ain't wit that feelings sh*t." Directed by his regular collaborator DrewFilmedIt, "Too Real" finds Von stalking the backstreets of Chicago with a flamethrower in hand, flashing the glittering smile that his fans and friends knew so well.
A labor of love that compiles unheard music from the artist's oeuvre, What It Means To Be King is packed with the ferocious bars and gripping narratives that earned him a huge fanbase, but also hints at some of the directions he might have taken if he had more time. The album features contributions from many of the people who knew Von best, including regular producer and collaborator Chopsquad DJ, his "twin" Lil Durk, and fellow O'Block natives like Boss Top and DqFrmDaO, along with street rap heroes like like 21 Savage, Moneybagg Yo, G Herbo, and more, making plain the level of respect Von commanded in the rap game at large. Released last Friday, What It Means To Be King topped Apple Music's All-Genre Albums chart over the weekend, and is on pace for a big debut on the Billboard 200.
The album is home to "Don't Play That" ft. 21 Savage, a banger that is already one of the late artist's most successful singles to date. "Don't Play That" was an immediate success, generating 1.4M+ Apple Music streams, 1.2M+ Spotify streams, and 1.1M+ YouTube streams in just the first 24 hours of its February 4th release. Since then, "Don't Play That" has racked up tens of millions of streams, including 15+ million on Spotify and 6 million on its animated video, and debuted at #40 on the Billboard Hot 100, marking Von's highest-ever chart position. The song currently sits at #86 on the Hot 100 and at #25 on Billboard's Hot Rap Songs chart. With additional appearances from Polo G, Dreezy, and OMB Peezy, plus production from heavy hitters like Hitmaka and ATL Jacob, What It Means To Be King is available everywhere via Only The Family / EMPIRE.
What It Means To Be King puts an exclamation point on Von's legacy, confirming his status as the best storyteller of his generation. A worthy follow-up to Von's GOLD-certified debut Welcome To O-Block, the upcoming album is a bittersweet treat for fans, and a moment of closure for those who loved him most.
Watch "Too Real": https://www.youtube.com/watch?v=7Q31rxzkwjQ
Buy/Stream What It Means To Be King: http://music.empi.re/whatitmeanstobeking
© 2022, Seth "Digital Crates" Barmash. All rights reserved.