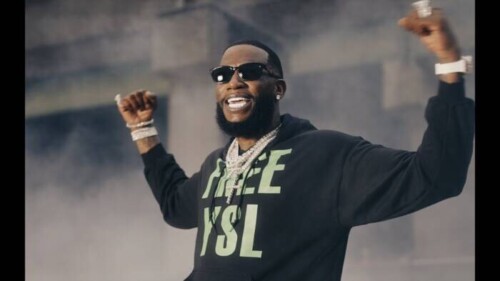 It has been a great run for Gucci Mane with singles like "Fake Friends" and "Rumors" with Lil Durk since 2022 began. Additionally, he released a compilation album entitled So Icy Gang: The ReUp, an extension of the 2020 release So Icy Gang, Volume 1, which included contributions from Yung Miami, Quavo, Key Glock, Nardo Wick, Young Dolph, Gucci's current 1017 roster, and others.
Wheezy and Juke Wong produced Gucci's "All Dz Chainz," a song that features one of Lil Baby's most memorable verses of all time:
A short video accompanied the release of "All Dz Chainz" shows Guwop and Lil Baby in a warehouse setting where there is enough jewelry to fund a small country. The track corresponds perfectly with Gucci's message on the hoodie, which is emblazoned with the words "FREE YSL" on the front.
© 2022, Derek Charles. All rights reserved.