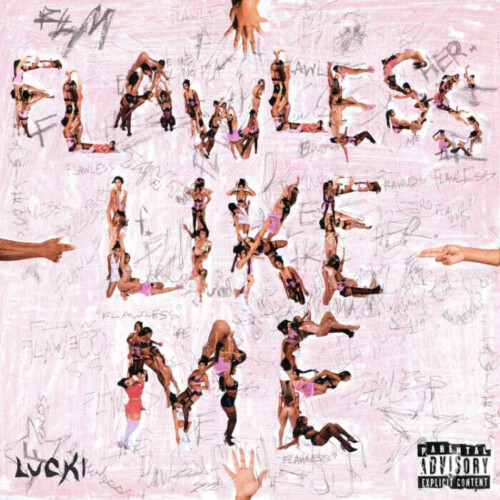 Favoring atmospheric sonics and mantra-like flows, Chicago's LUCKI has a knack for immersing listeners in his psychedelic world. The culmination of a long rise through rap's underground vanguard, LUCKI shares FLAWLESS LIKE ME, his new album. Spanning 22 songs with two bonus tracks, FLAWLESS LIKE ME is epic in scope, piling up ethereal instrumentals for LUCKI to cut through with his croaking mantras. Accompanied by carnival-esque, blissful synth melodies that provide a counterpoint to LUCKI's purr, the fast-rising rapper paints a surreal portrait of his semi-charmed life–LUCKI swerves in his souped-up foreign in one bar, before bemoaning a lost love or wistfully recounting his struggles with drug addiction. For the first time since 2019's Freewave 3, LUCKI rolls out the red carpet for guest rappers–on "KAPITOL DENIM" ft. Future, LUCKI goes toe-to-toe with Pluto himself, and he trades twisting verses with Babyface Ray in the woozy and hard-hitting "WHITE HOUSE." Home to the recent singles"GEEKED N BLESSED" and "COINCIDENCE," subject of a Cole Bennett-directed video with over 3 million views, and boasting a laundry list of talented producers like Tay Keith, Bobby Raps, Brent Rambo, Hurtboy, Bhristo, Cash Cobain, and more, FLAWLESS LIKE ME is available everywhere via EMPIRE.
FLAWLESS LIKE ME continues a busy year for the 26-year-old underground hero, marked by sold out shows, festival performances, and 350 million on-demand streams in 2022 alone.The new album arrives in the wake of a string of successful singles, most notably "SUPER URUS," which generated over 12 million Spotify streams and 3 million YouTube views to date, and triumphant fan favorite "Y NOT?" (2.9 million YouTube views). Both "SUPER URUS" and "Y NOT?" appear on FLAWLESS LIKE ME as bonus tracks.
In August, LUCKI connected with Internet Money for "2K In The Soda," a woozy new banger from their new EP. LUCKI embarked on a fast-selling tour in the spring, and shut it down this summer with performances at festivals like Rolling Loud, Lyrical Lemonade's Summer Smash, So What!, and Rolling Loud Portugal. The new album FLAWLESS LIKE ME follows up WAKE UP LUCKI, the artist's late-2021 project, a full collaboration with Working On Dying producer F1LTHY.
With his new album on the way and a legion of devoted fans awaiting his every move, it's only a matter of time before LUCKI takes over the game.
© 2022, Seth "Digital Crates" Barmash. All rights reserved.