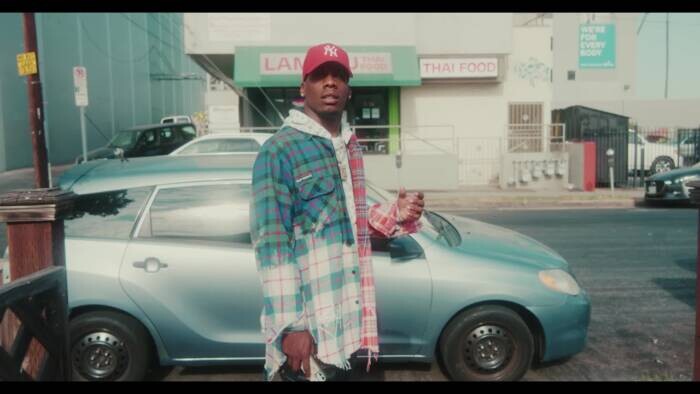 Sacramento's smoothest crooner, MarMar Oso, is off to a white-hot start in 2022. Just days after releasing his latest project, Good Intentions, the artist returns to share the video for the Luh Kel-assisted track, "Losing You." The Swiff D-produced opening from the project toes the line between light-hearted and heartbroken that MarMar so masterfully balances, while Luh Kel offers a vocal counterpoint to MarMar's refined inflection with his nimble flows and sharp tenor.
In the video, MarMar is seen walking down the street on a sunny day when he notices a house with an open door. Though the house appears quite plain from the outside, a mesmerized MarMar can't help but feel drawn to it. As he enters, he's caught off guard by the hanging vines and plant life engulfing the well-kept home when, out of the corner of his eye, he catches a quick glimpse of a goddess-like figure. He searches for this dream woman and ultimately finds her, but by the time their brief interaction ends, he's left alone; caught up in the tangled weeds of infatuation. Accepting his fate, MarMar channels his inner-Destiny's Child, singing, "We was on our Jay and Bey, and now you're leaving me/To the left, to the left, to the left, don't go/I guess I thought I was irreplaceable."
Born in Hawaii and raised in Sacramento, MarMar Oso began singing at church when he was 2 years old, and hasn't stopped since. In 2018, MarMar made his debut with the music video for "Lost Feelings" from his Mixed Emotions EP, the success of which allowed him to quit his part-time job at UPS to fully pursue music. He went on to take the world by storm with the viral success of the GOLD-certified "Ruthless (Nice Guys Always Finish Last)," from his 2019 debut album, Oso Different, which boasts over 178 million streams on Spotify and over 37 million views on YouTube. Since releasing back-to-back projects in 2020, with Love Don't Cost a Thing and Marvin's Room, MarMar has waited patiently to take his sound and career to new heights as he does now with the release of Good Intentions.
Good Intentions is available everywhere via Free The Lost / EMPIRE.
Watch "Losing You" ft. Luh Kel: https://youtu.be/RU3lY1XTW6Y
Stream Good Intentions: https://music.empi.re/goodintentions
© 2022, Seth "Digital Crates" Barmash. All rights reserved.