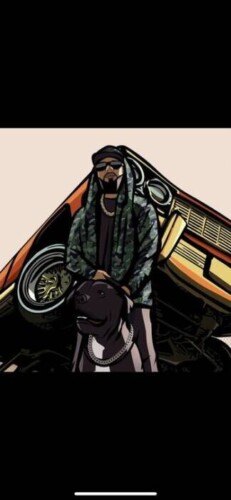 Journalist : What is your name and what city do you rep?
My name is Mayjah Payne from West LA, California.
Journalist :  Tell us about your latest releases, what inspired you to create them?
I just released my project "In A Mayjah Way" and it just charted #25 on the Apple Music ITunes Charts in the USA and hit #1 on the Apple Music ITunes Charts in the UK! I'm feeling really appreciative right now. I was also featured on Sirr Jones "Entreprenegro" project that reached #3 on the Apple Music ITunes Charts. It's a lot of good energy going right now!
Journalist :  What is unique about you and your music?
I like to make soundtracks to life. I want my experiences to give me songs that people can relate to. I want you always to guess how I am going to come next because the style is so versatile, you know
Journalist :  When did you realize you were going to make music professionally?
I realized it since my big brother Swoop was doing choreography with MC Hammer. After seeing what "#setlife"was like in my childhood, I wanted to eat craft service snacks all day in my adult life.
Journalist : What type of music do you listen to?
I mainly listen to Hip-Hop & RB. But hey, a good song is a good song no matter the genre.
Journalist :  What inspires you to write music?
Life inspires me to write music. Culture also. Life and culture = Payne.
Journalist :  What do you do when you don't do music (creative or otherwise) and that you are passionate about?
When I don't write music, I like to travel. I like exploring and finding some new shhh. Put me on!
Journalist :  What do you wish you were told when you first started making music that you think would help artists just starting out?
As Shorty T @Sthug84 says, "It's not about who you know, it's about who knows you." A lot of this is perspective and you have to perceive yourself as greatness to achieve greatness.
Journalist :  Where do we find you music / music projects?
Go to my website www.mayjahpayne.com and type "Mayjah Payne" in the search engine on all streaming platforms. Some of my older work is listed as my alter ego "Marc Payne" so have fun finding my catalogue, I dropped some gems in there. Instagram me @MayjahPayne for all of my updates. Shoutout to everyone who supports me!
© 2022, Leonard Magazine. All rights reserved.