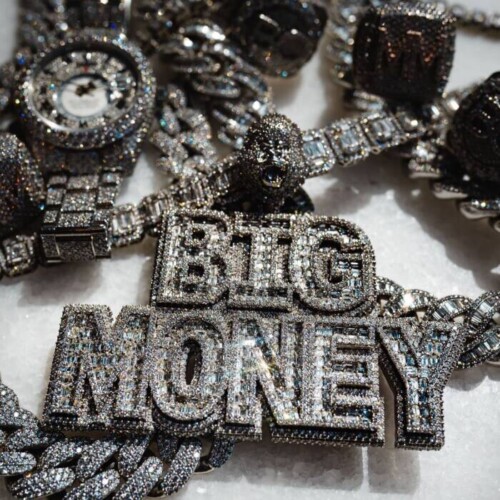 Rapper Money Man has emerged as one of the most talked about artists out of Atlanta in recent years. Through his relentless release strategy and fierce message of entrepreneurship and self-worth, Money Man has carved his own lane independently. Money Man first made waves when he bought himself out of his previous contract with his earnings from early investments in Bitcoin, to then partner his label with independent label EMPIRE. Then, with a bombardment of music that marries street culture to self sustainability topics – such as real estate, farming, technology, the stock market and more – Money Man emerged as a near mythical artist that continues to share his wealth of knowledge with his fans.

After hundreds of millions of streams, Money Man has now captured the attention of his peers with features from Lil Baby, Jackboy, YFN Lucci and more. His project, Epidemic, features RIAA-certified Platinum track "24" – a tribute to the late Kobe Bryant – that has now amassed millions of streams and a remix with Lil Baby and latest album, Blockchain, features RIAA-certified Gold track "LLC" featuring Moneybagg Yo.

Today, multi-platinum Atlanta-based artist, entrepreneur and crypto pioneer, Money Man, releases new track "Big Money" via Black Circle/EMPIRE from forthcoming album Big Money dropping June 24th. This comes on the heels of Money Man's performance at ESPN's NBA Finals Game 2 NYC Watch Party & Concert at Pier 17 alongside DJ Clue, Lil Poppa, Bas, Mozzy, Moneybagg Yo, and Yo Gotti.

Introduced with a solemn instrumental of strings and piano keys on loop, Money Man makes an explosive entrance supported by an impactful deep bass and rhythmic high hats as he raps about his affluent and healthy lifestyle. He raps, "My pops had told me anything you do make sure you do it big," alluding to the dual meaning of the song title and project "Big Money" coupled with his intentional steps in the music industry.

This latest output follows Money Man's visual EP "Whale Games" and his most successful album, Blockchain, that peaked at #13 on the Billboard 200 chart featuring RIAA certified Gold hit track "LLC" featuring Moneybagg Yo and more. Money Man recently wrapped his 'Blockchain' tour in April making stops in Houston, Atlanta, Memphis, Chicago, Cleveland, Detroit and more cities.
© 2022, Seth "Digital Crates" Barmash. All rights reserved.