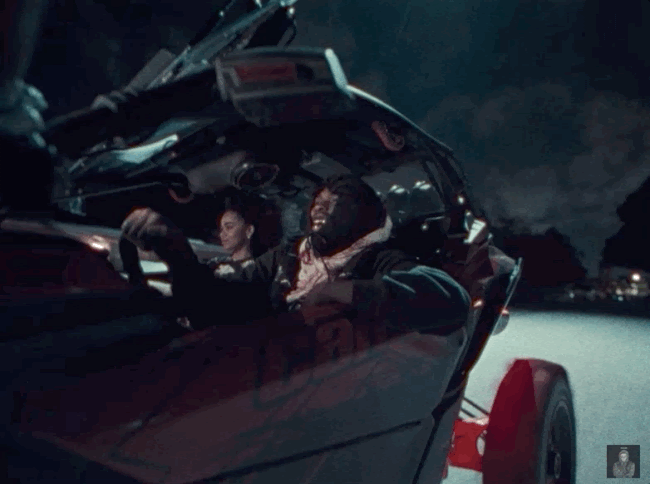 In full command of his artistic vision and wide-ranging talent, $NOT welcomed listeners into his dream world with Ethereal, the 24-year-old artist's new album, which has generated over 100 million streams across platforms. Today, the rapidly rising star shares the video for "5AM," the latest video for the album. Originally teased in the final scene of the AWGE-directed video for "Doja" ft. A$AP Rocky, "5AM" is one of the new album's haziest and most dreamlike tracks, combining jagged-edge, room-enveloping synths and thumping 808s as $NOT tunefully sings about his late night escapades–catch him lighting up a blunt or anyone who looks at him funny. Directed by NOTACHANCE, whose use of film grain makes the clip feel like a home movie, the video follows $NOT as he races a roadster through empty streets in the middle of the night, before heading to his house and hosting some close friends for a low-key function.
"5AM" is the first video from Ethereal since "Doja," which reached YouTube's trending chart after the audio generated over 10 million combined streams in its first week of release. Powered by a video that followed $NOT and Rocky through NYC streets and a memorable hook that caught the attention of Doja Cat herself, "Doja" premiered at #87 on the Billboard Hot 100, becoming $NOT's first Hot 100 hit as a lead artist and second-ever appearance after last year's "Tell 'Em" w/ Cochise, and it has generated over 7.2 million YouTube views and 40 million streams to date.
"Doja" and "5AM" are two of many highlights from Ethereal, which finds the West Palm Beach, FL-based artist reconciling his life as a rising rap star with the inner demons he battles every day. Aided by creative direction from AWGE, $NOT indulges in his most adventurous artistic ideas on this album, trying his hand at every style under the sun.
© 2022, Seth Barmash. All rights reserved.