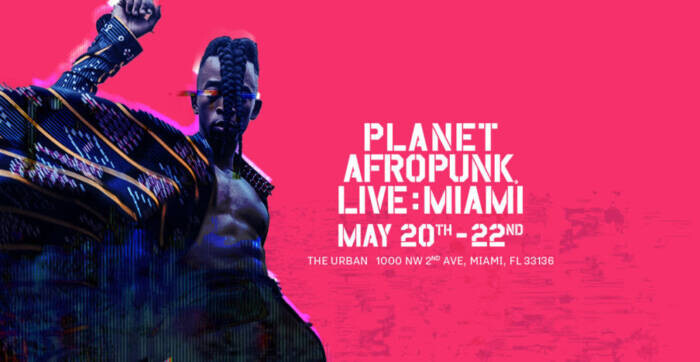 AFROPUNK events are designed to promote the kind of cultural exchange that brings together members of the African diaspora through food, dance, tech, art and stimulating conversations. Today, AFROPUNK announces that ChocQuibTown, Michael Brun & Friends, and Silent Addy have been added to the lineup of Planet AFROPUNK Live: Miami. The three day event brings a wide-ranging collection of musicians, artists, entrepreneurs, and activists to Miami, brought together by their connection to the Afro-Caribbean and Afro-Latinx communities. Joining budding Afrobeats superstar Rema on the lineup, the three new additions contribute to a vibrant and diverse lineup of artists who provide new spins on traditional styles.
Planet AFROPUNK Live: Miami is the first-ever "AFROPUNK Live Experience." The first day of Planet AFROPUNK Live: Miami brings discussion panels and an art exhibition, followed by two days of live music, great food, and other activations. The first in-person live event Planet AFROPUNK Live: Miami takes place between May 20-May 22 at The Urban and surrounding grounds, located in the city's historic (and historically Black) Overtown neighborhood.
As the passionate, soulful voice of Colombia's GRAMMY-winning trio ChocQuibTown, Gloria "Goyo" Martínez has become one of the most rousing and conscious lyricists in Latin music. The Afro-Colombian singer, rapper, and composer has also been championing more inclusivity and equality for women and the Afro-Latinx community since her arrival in the public eye. On their latest album, 2020's ChocQuib House, the collective pays tribute to their origins, the hub where their sound was born, over slinky R&B and infectious Afro-Colombian beats. The album arrived amid a vulnerable time for the black community as institutional racism once again came to the forefront of political discourse due to the murder of George Floyd. Via song and her social media presence, Goyo continues to empower communities of color, while remaining a formidable voice for gender equality, evidenced by the group's latest single, "Que Lástima," featuring Sech, an empowering statement on women's rights amid toxic relationships.
A GRAMMY Award-winning producer and artist, Michael Brun is the the face of a new generation
of Haitians, bridging the gap between his homeland and the resurgent global music movement. Born to a Haitian father and Guyanese mother who loved music, Brun's influences stretched from the percussion-heavy Rara and Afro-groove music of his native Haïti, the dancehall and reggaeton soundsystem parties of Port-au-Prince, through to Hip-hop and RnB. His passion and commitment to changing the narrative of Haïti, and elevating its people through culture and music have seen him tour the world, collab with superstars like J Balvin, Win Butler and Mr. Eazi, sell out multiple headlining US tours and notch up tens of millions of streams across singles and acclaimed projects like his debut album, Lokal and last year's Melanin EP.
Known for hosting popular parties in the Miami area, Silent Addy's incendiary DJ sets and behind-the-scenes work as a producer earned him co-signs from Major Lazer and Sean Paul and have established him as a mainstay in the global Dancehall scene. Between discovering up and coming dancehall artist Projexx, collaborating with Ape Drums and starting Bashment Records with follow DJ/producer Disco Neil, Addy has created an outlet to lead the next generation of dancehall and Caribbean culture and take it to the next level.
In addition to the talented lineup of performing artists, Planet AFROPUNK Miami: LIVE offers an exciting array of unique activations to entertain and enlighten attendees between sets. AFROPUNK partners with Black On The Block to bring he Spinthrift Market, a shop market full of talented makers, selectors and curators from all across the diaspora, and AFROPUNK's Bites 'n Beats, the literal embodiment of "food for the soul," which provides event goers an opportunity to indulge in cuisines from renowned chefs and local food trucks. Planet AFROPUNK Live: Miami is also partnering with Shopify to premiere an immersive screening celebrating Black entrepreneurship from AFROPUNK and Shopify's Black Fashion Accelerator program, an intensive entrepreneurship program that will help prepare nine promising talents for long careers in the industry, culminating in a fashion show to be held this summer. The
With many more artists and unique activations to be announced, Planet AFROPUNK Live: Miami ushers in a new era of AFROPUNK live experiences, allowing for all elements of a local culture to be expressed freely and fully. AFROPUNK announced earlier this year its plans to expand its live footprint beyond Brooklyn into more cities, bringing Live Experiences not only to Miami but to cities like Oakland and Minneapolis.
Tickets for Planet AFROPUNK Miami are available now: https://wl.seetickets.us/event/Planet-AFROPUNK-Live-Miami/470397
Visit Planet AFROPUNK's official website: https://planetafropunk.com/miami
© 2022, Seth Barmash. All rights reserved.