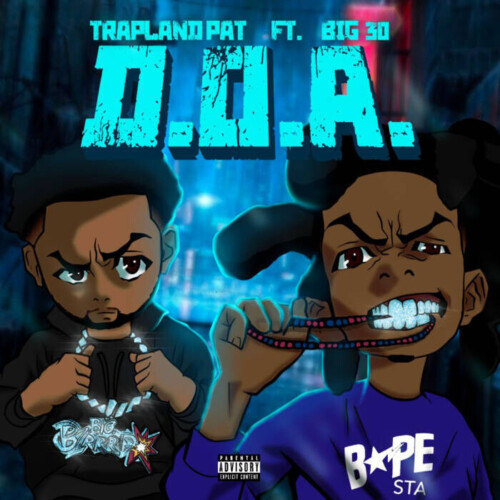 Spitting silky-smooth rhymes with his distinct South Florida flavor, Trapland Pat is well on his way to becoming Broward County's next rap star. Joining forces with Memphis riser BIG30, Pat shares his new single "D.O.A.," the latest glimpse into his upcoming project, Trapnificent, coming soon via Bang Biz Ent./Alamo Records.
Reconnecting with frequent collaborator PepperJackZoe, who produced recent singles like "Cappin," "Losses," and "Trap Dance" and co-produced "D.O.A." with Hardbody B-Eazy, the new video finds Pat and 30 posting up in the nighttime streets, surrounded by Hellcats and old school Chevys, equipped with rims as large and lustrous as the duo themselves. As the pair cooks up some fire in a food truck, Pat makes it clear that it could very well be the opps' last supper they're whipping up: "Trench warfare, this is where you gotta crawl at/You never get active, what you know about combat?/Know you smoke mid, I can show you where the strong at."
As Trapland Pat looks to take his searing street raps to a larger audience with the upcoming Trapnificent, stay tuned for much more music from the young rapper, and don't dare doubt his determination to succeed.
© 2022, Seth Barmash. All rights reserved.