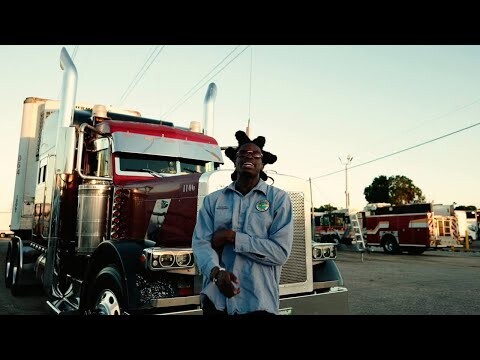 With star qualities as unmistakable as his wide-eyed, iced out smile, Trapland Pat is cruising in a lane of his own. Returning with a full tank of gas and an endless supply of tropical vibes, the South Florida sensation shares his new video single, "Road 2 Riches." Anchored by an instrumental from frequent collaborator Pepper Jack Zoe that makes steel drums resonate like organ pipes in a cathedral, "Road 2 Riches" finds Pat on a Waze route to the bag, with no time for detours: "They like, 'Trap, you should scam,' I'm like, 'Scam why?'/23 hours for them birdies, that's a damn job."
The KillerJack-directed video for "Road 2 Riches" leans into its automotive imagery at full throttle, as Pat's diamond-studded smirk and Peterbilt rig turn I-95 into Ice Road Truckers. Making a pit stop to stock up on essentials like styrofoam cups and bundles of Black and Milds before embarking on his journey, Pat's locks in once he gets behind the wheel. He's got a long way to go and a short time to get there, but he's money-bound, so watch Trapland run it up.
"Road 2 Riches" follows recent cuts like "Z Land" and "Vibes" as Pat's first new music since he shared the acclaimed Trapnificent mixtape this past summer. Pat's first release for Bang Biz and Alamo Records, Trapnificent rolls out the red carpet for a tasteful selection of guests, including Fredo Bang, who signed Pat to his imprint Bang Biz and appears twice on the tape, Sacramento street hero Mozzy, NYC Winners Circle maestro Eli Fross, and Memphis' own BIG30. Trapnificent earned praise from Pitchfork, who called the project a "zippy distillation of his regional roots" and said that Pat's music is "extremely regionally and culturally specific, like so much exciting and promising new rap music."
Ready to bring his searing street raps to a larger audience, Trapland Pat has the goods to be Broward County's next big star.
© 2022, Seth "Digital Crates" Barmash. All rights reserved.