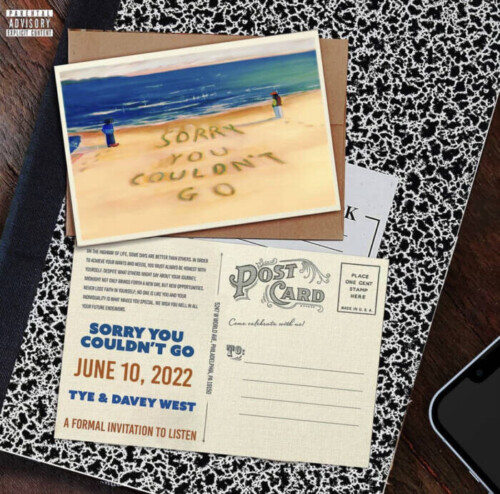 TYE and Davey West join forces for an outstanding album called "Sorry You Couldn't Go" which is online everywhere now. The ten-track album finds these two artists blending their styles perfectly over solid production. The tracks and visuals are high-quality and drop at a perfect time for the summer. They both have such a heavy presence on the songs captured perfectly by engineer Zack Hanni at Sounds Like Soma studio. The Philadelphia-based artists deliver this album with a batch of fresh visuals that perfectly match the energy of the records. They even fed the streets with a behind-the-scenes view of the creation of this project.
The rap game is so filled with competition, that this collaboration brings a breath of fresh air to the Hip-Hop community. Even the album artwork fits the blend of their styles which is a mix of raw lyricism and musical art. The artwork itself was a collaboration between August Pictures and PartyPrezGFX. The album has a range of sounds and emotions with its unique blend of lyrics and delivery shining through the range of production.
The album kicks off with a soulful banger called "High-Speeding In the Rain" which sets the tone for the album. The music is introspective but also relatable to the listener. "Better Days" is a street anthem with Davey West and TYE trading off truthful bars about their life experience. "Tell Me What You Want" is a radio and club-ready banger that is prime for summertime parties. "F.C.Y.T.M" is one of the hardest records on the project with standout flows and rap patterns to match their bars and melodies. The album is rounded out by two stand-out tracks called "Nobody Like Me" and "Wish Me Well" which are both a perfect mix of the artist's distinct styles.
Stream the album below and let us know what you think in the comments. Make sure to stay tuned to HipHopSince1987.com for more work soon from TYE and Davey West.
https://www.instagram.com/whostye/
https://www.instagram.com/dawavey1/
© 2022, Seth "Digital Crates" Barmash. All rights reserved.