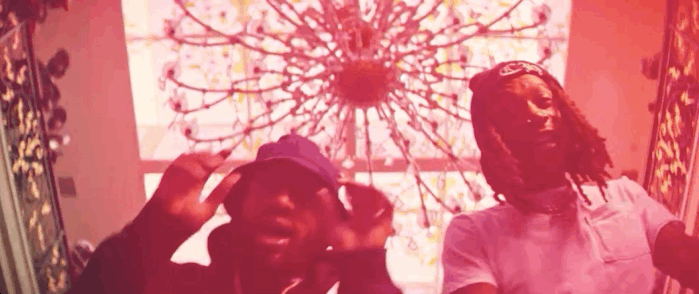 A trusted source for wavy clouds of sound for more than a decade, Pittsburgh producer Sledgren excels at crafting expansive worlds for your favorite rappers to inhabit. Teaming up with two of his favorite collaborators, Sledgren shares "Chill With Me," a new song with appearances from multi-platinum selling, Grammy and Golden Globe-nominated recording artist Wiz Khalifa and Larry June, available everywhere via Taylor Gang Ent./EMPIRE. Layering sweeping synths and subsonic bass over clicking percussion, the immersive "Chill With Me" brims with colorful details–notice the way the piercing synth melody gradually morphs into a wistful flute as the song proceeds, mimicking the pleasant fade from reality that accompanies a successful trip. The rappers seamlessly fit the vibe–Sledgren was inspired by Roy Ayers' seminal hit "Everybody Loves The Sunshine" when he made the beat–as Wiz stacks easygoing flexes and Larry reminds fans that he's just a phone call away if they want to chill.
Directed by David Camarena, the luxurious new video perfectly translates the song's inviting atmosphere. Posting up in an ornate mansion, the two rappers and producer gather a crew and show us how they chill. Wiz holds court with a cigar-sized blunt, while a bucket hat-clad Larry sips orange juice as he and Sledgren hotbox the mansion's study.
A close confidante of Wiz Khalifa's since the two were high school students in Pittsburgh, Sledgren's blissful beats came to define the sound of his city, through his work on classic projects like Wiz's Kush & Orange Juice and Mac Miller's GO:OD AM, Sledgren's supreme chill and fastidious attention to detail have earned him the respect of the game's finest rappers, with luminaries such as Curren$y, Babyface Ray, Starlito, Doe Boy, and more rhyming over his production. Signed to Taylor Gang for more than a decade, Sledgren showed off his artistry on a series of instrumental tapes–including last year's Enigma and Sagittarius Luv 2–which fully explore his impressive ability to create immersive and atmospheric soundscapes. Last month, Sledgren connected with Wiz and Cardo Got Wingz for Wiz Got Wingz, a full-length project produced entirely by Sledgren and Cardo, in which Wiz returns to the sound that defined his 2010 mixtape, Kush & Orange Juice.
"Wiz and I create the same way, we just live in two different places," says Sledgren. "Our chemistry is still the same, our process still the same. We might just work over the net more now."
The founder of Glitch Realm, a lifestyle brand and collective of like-minded producers, Sledgren never stops working. With more singles and a solo project on the way, the Pittsburgh native looks to earn proper recognition as one of the most talented producers in the game today.
Watch "Chill With Me" ft. Wiz Khalifa & Larry June: https://youtu.be/p0gRoOLp1kQ
Buy/Stream "Chill With Me" ft. Wiz Khalifa & Larry June: https://music.empi.re/chillwithme
© 2022, Seth "Digital Crates" Barmash. All rights reserved.