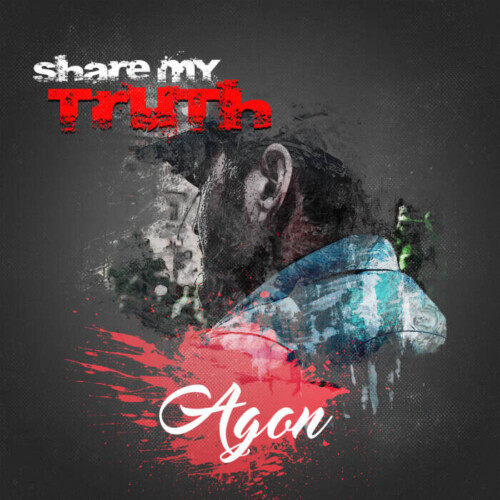 Agon is an artist and songwriter who recently dropped a brand-new studio single, "Share My Truth".
"Share My Truth" is definitely going to resonate with fans of artists such as Eminem, Juice WRLD and Kendrick Lamar. This release exemplifies the versatility that you can expect from Agon's music, while also highlighting the personality and drive that makes this musician so special and one-of-a-kind. In addition, the quality of the production is also outstanding. Every element in the mix is balanced, allowing the audience to get a full and unhindered experienced of Agon's remarkable stylistic range. This song is performed with passion, and the quality of the recording allows the true emotion of the track to shine through on a more seamless level. This beautiful track is empowering and honest, connecting with the audience with Agon's deepest feelings and thoughts, and pushing people to embrace their truth, and never being afraid of what others might think! It's important to stay focused on your truth! The song deals with the idea of building your own world by progressing and never staying dormant. Stillness is essentially a very negative thing, because if you sleep or stand still without doing anything, you won't be able to accomplish anything at all. It's important to actually follow your own path, without thinking too much about others who might be jealous or who might want to stand in the way of your happiness and success. Sadly, these are real struggles that affect so many people in the world. Agon really wants to use his music to help people overcome them and embrace more positive values in their existence. In the song, Agon speaks from the heart about sharing his truth and setting real goals, not only for himself, but also for his family and for the people that he loves deeply. Many rappers aren't too keen on going so deeply personal with their lyrics, but Agon is never afraid to speak his mind and his heart. This is why his music is truly different and outstanding in the scope of the global hip-hop community. He is an artist with something to offer!
Find out more about Agon and listen to "Share My Truth".
This release is available on Spotify and other streaming services:
https://agon.fanlink.to/share-my-thuth
#Agon #Share #My #Truth #New #Release #Rap #HipHop #Music
Web-site: www.agonsg.com
Instagram: https://www.instagram.com/agon_sg
Facebook: https://www.facebook.com/agonsg
Linked: https://www.linkedin.com/in/agon
Twitter: https://twitter.com/agon_sg
Tik Tok: https://www.tiktok.com/@agon_sg
Artist link on Spotify: https://open.spotify.com/artist/7ekkWpaENoJp9DD9P92D0C

Artist link on Apple Music:
https://music.apple.com/us/artist/agon/1573881059
Artist link on SoundCloud:
https://soundcloud.com/agon_sg

Follow AGON on all digital platforms & social media:
https://biglink.to/Agon
© 2022, Tedfuel. All rights reserved.