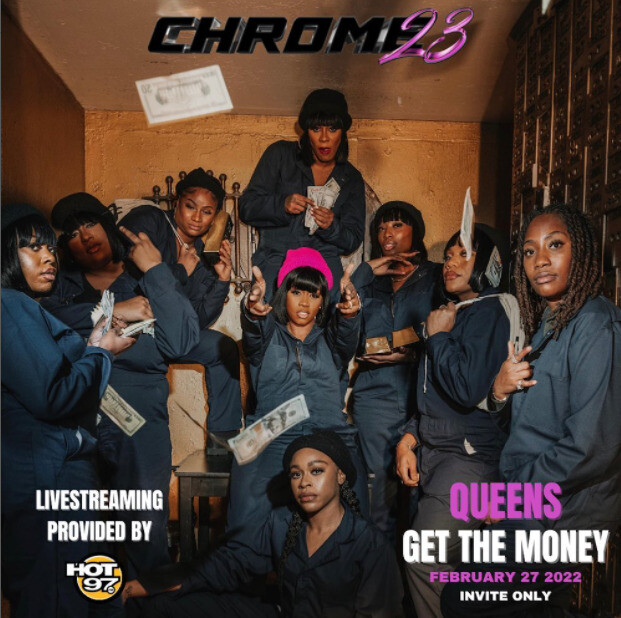 Grammy-nominated rapper Remy Ma is excited to announce Queens Get The Money, the biggest rap-battle in the Tri-state area designed to celebrate women in the male-dominated Hip Hop industry. The Queens Get The Money rap-battle is a female-powered showcase incorporating live entertainment celebrating womanhood.
"I see a lot of the girls out there doing their thing, spitting about their real experiences. I'm a big fan of that and supporting other women in this industry," Remy Ma. "Being a female rapper in this industry is tough, but we have made lots of effort to level the playing field. There is so much talent and so many people who can pen, If I can give them space or platform, I will. The Queens GetThe Money is a rap battle experience, the first of its kind, for female MCs to show their talent."
Remy Ma is regarded as one of the Queens of Raps with hit music and accolades that span decades. Her 2016 single "All The WayUp" track with Fat Joe and French Montana earned the rapper two Grammy nods, a Soul Train Music Award, a BET Hip Hop Award and helped her snag BET's Best Female Hip-Hop Artist for that year.
In addition to the rap game, Remy Ma has cemented herself in the television industry by starring on Love & Hip Hop New York.She most recently hosted The Wendy Williams Show during Thanksgiving Week and joined the cast of ABC'S Queens in a recurring-role.
"Women are killing it in the game right now. There are more successful, female rappers than ever before in this industry. This is a big moment, and I want to rally behind that and build other MCs up."
Remy Ma's first official Queens Get The Money rap battle series will be held in New York City Sunday, Feb 27th. People can catch the battle live stream on hot97.com. Fans and online viewers will have a unique opportunity to help choose the winner of each battle among other categories such as 'Body Of The Night' and 'Battle of The Night.' Viewers will also be able to vote live through hot97.com.
VIP guest appearances will include many of the Hip Hop veterans, including, Fabulous, Fat Joe, Joe Budden, Lil Kim, Jadakiss, Papoose, Brandy Norwood and many more.
If you would like to learn more information about Queens Get the Money rap battle series, visit Chrome23 Instagram@chrometwenty3 or www.solo.to/remyma. Queens Get The Money Rap Battle Series will air live Sunday, February 27, 2022, at 1PM (ET) / 12 PM (CT) / 10 AM (PT).
© 2022, Seth "Digital Crates" Barmash. All rights reserved.