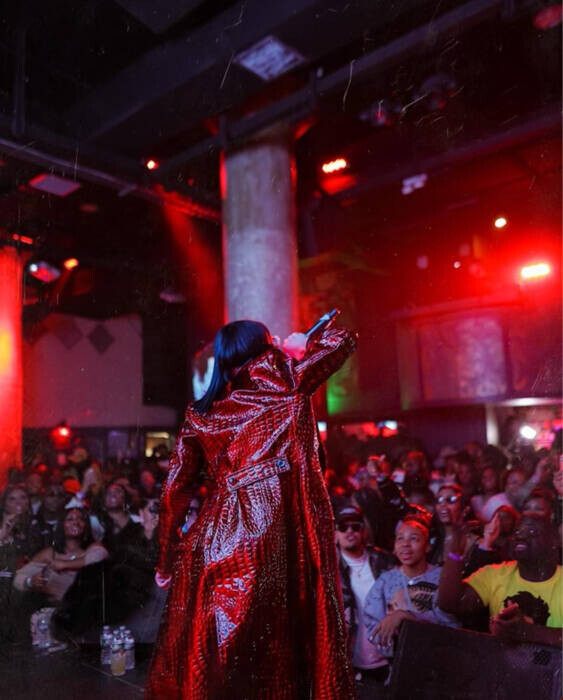 Photo Credit: Ace
Rising Hip Hop superstar Lady London made her first live performance debut in front of a sold-out crowd at legendary event venue Sounds of Brazil (SOB's) on Saturday, February 19. The historic event for the "Artist to Watch for 2022," Billboard–coined artist opened with sounds and sonics provided by DJ Zoo and Hot 97's Miabelle, along with supporting guest performances from R&B singer Makaela and Harlem-born rapper Dub Aura.
True to her project title, Lady London commanded the attention of everyone extraordinarily boss-like immediately after hitting the iconic N.Y.C. stage—showcasing no signs that the momentous occasion marked her first performance as an artist. London performed a few of her most revered base-knocking tracks as fans joined in reciting lyric-for lyric, including "Long Live Shamello," "Lady What, Lady Who," & "Buss It, Ski." Other tracks from her debut project Lady Like: The Boss Tape "Lemon Pepper, Wet," and "Black Love" received an outpour of praise and reception moreover and exemplified her undeniable versatility  live and in vivid color. The set concluded with one of the most stand-out tracks from her project with a performance of "Lisa's Story" as Dub Aura and London created a heavy-hitting moment for their hometown.
London closed out the successful show by thanking everyone in attendance for the endless support as she assured a quickly approaching release of her official single of 2022.
January of 2022, acclaim for Lady London increased to a mainstream stance as she released her debut project Lady Like: The Boss Tape. One of the most discussed projects out right now, L.L.T.B.T. clusters together some of her most potent freestyles from her "Lady Londays" series which increased her social following to over half a million. As the project continues to reach new heights, it peaked Top 5 on the iTunes Rap/ Hip Hop charts as one of few indie-released projects to amass this significant achievement.
All eyes remain on Lady London as she rises to a status that sets her apart from all.
CONNECT WITH LADY LONDON
INSTAGRAM | YOUTUBE | TWITTER | TIK TOK
LISTEN TO LADY LONDON
SPOTIFY | APPLE MUSIC | TIDAL | SOUNDCLOUD | AUDIOMACK
© 2022, Seth "Digital Crates" Barmash. All rights reserved.