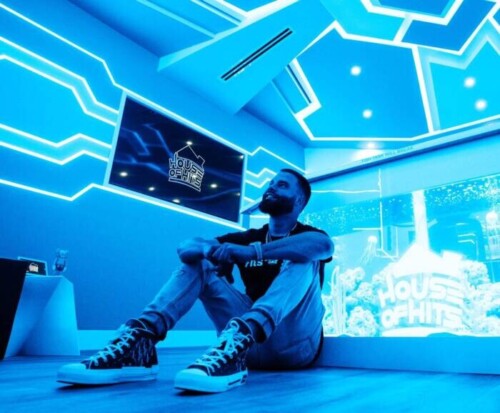 My plane is about to land at Miami International Airport from San Francisco. Flying for five hours with a migraine and high flight turbulence is a toxic combination. Drinking Aquahydrate water mixed with lemon juice and UBRELVY revitalizes my body. Being first-class affords me a cold towel for my head from the flight attendant.   
As my flight lands, God's sunlight beams directly into my eyes, and I observe Miami's gorgeous weather. I leave a handsome tip for the flight attendant staff as I depart my flight. I'm always loyal to upper echelon customer service.   
I'm on assignment for HIPHOPSINCE1987 covering the meteoric rise of Vinny DeLeon, aka 'Mr. Mix and Master'. My driver meets me in the lobby holding a sign stating 'Jonathan P-Wright/HIPHOPSINCE1987'. He greets me with a smile and quickly grabs my bags for ultimate accommodation. I slide in the back of stretched Cadillac Escalade and head to Hyatt Regency downtown.   
I'm reading through my personal journal notes on Vinny Deleon, as Meek Mill's 'What's Free' echoes through my Beats by Dre headphones. Since December 15, 1987, Vinny's life purpose has centered on the foundation of music. Being born the son of immigrants, his DNA is infused with Cuban and Italian bloodlines.   
Vinny's unique ethnicity dynamic enabled him to have a Midas touch with people. At the age of twelve, he developed a deep desire to pursue a career as a rap artist. He went through multiple artistic transitions and decided to become a mastermind behind the boards at 19 years old.   
This specific 'chess' move would alter the trajectory of his career and life forever. It's only God's plan when you evolve from recording in a closet to engineering live production shows at the world-famous Staples Center in Los Angeles, California.   
As I dig deeper into his robust musical background, there's a constant pattern of discipline, sacrifice, and relentless pursuit of perfection on his path to destiny. Creating a home studio from his 800 square foot apartment overlooking Miami's skyline. Observing the bright lights of Miami's most prominent skyscrapers fueled Vinny, aka Mr. Mix, and Master's passion for music.   
Honing his skills and perfecting the art of sound propelled Vinny to unprecedented levels. His legacy would be permanently linked to the name 'House of Hits' Recording Studio'. 'House of Hits' Recording Studio in 2022 ranks as Miami's most desired and in-demand studio experience.  
As we approached the Hyatt Regency Hotel, I asked my driver if he would allow me thirty minutes to change and shower so I could make it to the House of Hits Studio on time. He obliged me, and I quickly converted from my casual Jordan attire to my Sean John tailored suit. I called my dad to check on my pops and confirm that I arrived safely.  
My driver navigates quickly through Miami's thick midday traffic. My driver is super cool and has Rick Ross' Lamborghini Doors' track blaring through the AKG Studio Sound System. I sip on my Peach pineapple Goat fuel energy drink and finish reviewing my notes on Mr. Deleon, aka 'Mr. Mix and Master'.   
I'm conducting an interview at his new innovative and state-of-the-art Studio. As I approach the House of Hits Studio flagship building, I meditate in amazement at how Vinny's vision from his closet manifested into a burgeoning music dynasty. Walking into the House of Hits Studio, I was greeted by multiple professional staff members, and they gradually guided me through the luxurious art deco style experience.   
The building euphoria is mesmerizing, and my imagination is peaked at the highest levels. Everything illuminates a beautiful process of expensive pain, calculated genius, and fearless energy. The choice of paint color, wall design, hand-painted artwork, custom House of Hits basketballs, and contemporary orange couch symbolize the mastermind mentality of the son of two immigrant parents.   
As I scan the wall and observe his countless platinum plaques and music accolades, I understand how he advanced from a closet to creating the world's first luxury recording experience.   
Knowing that Kanye West, Busta Rhymes, DJ Khaled, Rick Ross, Jack Harlow, Wiz Khalifa, French Montana, and more iconic music stars have sat inside his "Presidential Suite" is unfathomable to me. Vinny DeLeon defines the essence of living the dream in 2022.   
© 2022, Jonathan P-Wright. All rights reserved.