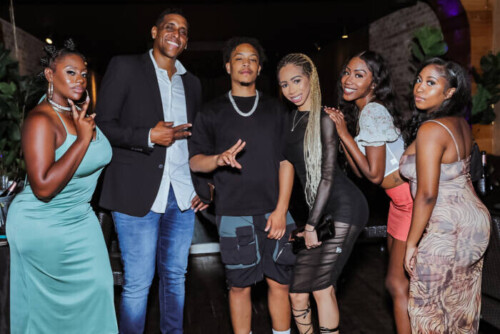 Photo Credit: KPSHOTIT (MarieDriven, Mikaben, DJ Skipp, Aniyah, Daniesha, Jada)
Founder and managing partner of Playbook MG, Marie Driven, is known for hosting extravagant events and has worked with iconic figures. This year's Driven Awards were held at Suede NYC and sponsored by Bartenura Wine. The outcome was amazing and the honorees were awarded for the world to see. They included the following:
Bianca Edwards – Roc Nation, Director of Marketing
Brianna Harrison – Atlantic Records, VP of Marketing
Crystal Rosas – Z100, Radio DJ & Host
Ebony Allison – Bleulife Media Group, Chief Content Officer
L'Oréal Luchi –Hot 97, Journalist & Host
Monique Blake –Swizz Beatz Productions, General Manager
DJ Nyla Symone – Power 105.1, TV/Radio DJ & Host
Pat McKay – Sirius XM, Director of Programming (Reggae)
Seleah Simone –TMZ, Digital Producer, Lifestyle Editor
Stephanie Officer –Inside Edition, Digital Reporter
Tanya Lawson – Audiomack, Director of Caribbean & Gospel
Valerie Lora – Hennessy, Brand Ambassador & Lifestyle 
Past honorees of the Driven Women Awards have professional associations with business, entertainment, and media to include Billboard Magazine, MassAppeal, BBC Radio, Complex, Tidal, Essence, Viceland, Bossip, BET, VH1, Hello Beautiful, New York Post. Past media coverage of the Driven Awards includes Spectrum News NY1 and The Source.
Marie "Driven" Theodore is a Haitian-American entrepreneur and public relations executive who initiated her journey in New York City working for prestigious companies in a variety of industries; fashion, music, and lifestyle. As a two-time verified mentor for the Revolt x AT&T Summit, Marie has hosted "Office Hours" sessions for conference participants and, in 2021, was a featured guest speaker in the Unlocking Possibilities programming.
Playbook MG specializes in branding, public relations, media strategy, and digital marketing with an exceptional team of MarCom experts and a broad spectrum of consulting services. Headquartered in Brooklyn, NY, Playbook MG recently up-sized their Industry City office in late 2020 to accommodate their growing company.
What's next for the rapidly growing and unstoppable Playbook MG? Follow Marie Driven for impeccable content, information, events, and more!
MARIE DRIVEN ON INSTAGRAM<—— CLICK HERE
This slideshow requires JavaScript.
© 2022, Julz Mancini. All rights reserved.