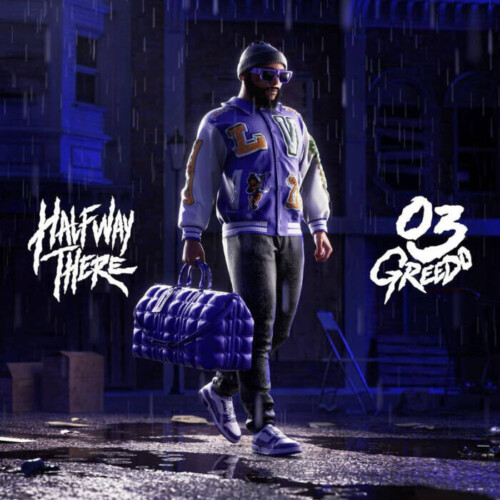 Endlessly prolific with an unparalleled work ethic, 03 Greedo spent the weeks following his release on a creative tear. Ready to share the first batch of recordings from his recent binge, 03 Greedo announces Halfway There, his next mixtape. Like many of the projects from his legendary 2010s run, Halfway There benefits from Greedy's endless font of melodies and peerless ability to write fully-realized songs in a matter of minutes. The new mixtape spans over 30 tracks, featuring contributions from a laundry list of notable names eager to welcome 03 Greedo back to the game. Featuring appearances from Babyface Ray, Maxo Kream, Rich The Kid, and many, many more to be announced, Halfway There arrives on March 24th via Alamo Records.
Last week, the Watts, CA native shared his first single from the tape, "Bacc Like I Never Left," starting a new chapter in his career. Today, the rapper shares the video for "Bacc Like I Never Left," its first single. Shot at the legendary Sugar Hill recording studio in Texas, the video finds Greedo enjoying his freedom, with ice on his wrist and neck. Directed by Wyatt Winfrey, the lo-fi video is a perfect complement for the melodic song, which 03 debuted at Billboard's The Stage @ SXSW.
The release of "Bacc Like I Never Left," the SXSW performance, and the upcoming Halfway There continue an incredible year for the West Coast icon. Earlier this year, just before his release from jail, Greedo shared Free 03, an acclaimed mixtape. Created in collaboration with renowned L.A. producer Mike Free, the tape features a combination of vault tracks and songs with vocals recorded over the prison phone. Home to 2022 singles "Drop Down" ft. KenTheMan and "Pourin" ft. BlueBucksClan, named one of the Best Rap Songs of 2022 by Passion of the Weiss, Free 03 is a potent refinement of Greedo's inimitable sound.
With Halfway There on the way, 03 Greedo is making up for lost time, look for more work soon here on HipHopSince1987.
© 2023, Seth "Digital Crates" Barmash. All rights reserved.