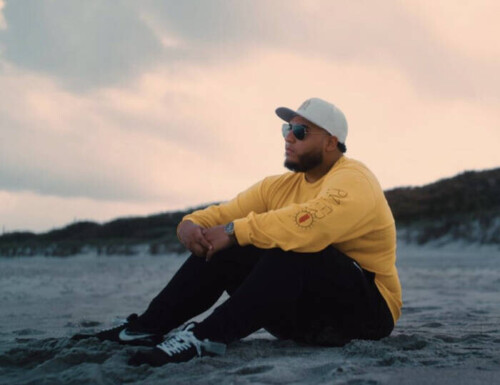 From a young age, music has played an important role in A. Dre's life. Starting to play guitar early on, Dre was inspired by a variety of artists, from Drake to The Weeknd and Bad Bunny, among others. A. Dre's music style has evolved over time, moving from melancholic sounds to more urban Latino genres.
A. Dre's creative process starts with finding a beat that resonates with them. Once they find the right sound, they start humming melodies and then write lyrics once the melodies are complete. When it comes to collaborations, A. Dre would love to work with artists like Feid, Yandel, Dalex, Justin Quiles, Lyanno, Robi, Sech, and Omar Courtz.
When it comes to performances, A. Dre has performed for 98 Entertainment at Grumpy's and loves the House of Blues. With upcoming shows being announced later this year, A. Dre is sure to bring their all to the stage.
Influenced by artists such as Drake, Bad Bunny, and The Weeknd, A. Dre has established their own unique sound that is sure to resonate with fans. Without music, A. Dre might have pursued a career as a pilot.
The internet has had a significant impact on the music industry, and A. Dre believes that it has completely changed how music is released and promoted. Social media platforms like TikTok have opened up new avenues for artists to find success.
For fans of A. Dre, they can expect to see more music released this year and exciting performances on the horizon. As for what's next, the future looks bright for A. Dre in the music industry.
Follow A. Dre on Instagram: https://instagram.com/a.dreofficial
© 2023, Logan. All rights reserved.