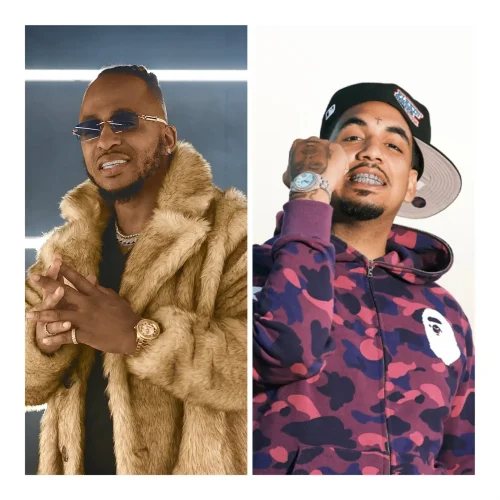 Apollo The Boss, a talented and up-and-coming rapper, has just released his highly anticipated new single titled "Threats" today. This captivating track showcases Apollo's unique style and lyrical prowess, and it features an impressive collaboration with fellow artist Stunna 4 Vegas. With previous collaborations alongside renowned artists such as Rick Ross, Conway the Machine, and Boosie Badazz, Apollo The Boss is making waves in the hip-hop scene. Let's dive into the details of this new release and explore the rising star's journey so far.
Apollo The Boss's Musical Journey:
Hailing from Worcester, Massachusetts. Apollo The Boss has been steadily making a name for himself in the rap industry. His musical journey began at an early age, honing his skills and developing a distinct sound that blends raw lyricism with catchy melodies. Drawing inspiration from his personal experiences and the world around him, Apollo crafts songs that resonate with listeners on a deep level.
Collaborations with Renowned Artists:
Apollo The Boss has had the privilege of working with some of the biggest names in the industry. Collaborating with rap heavyweights like Rick Ross, Conway the Machine, and Boosie Badazz has not only elevated his profile but also showcased his versatility as an artist. These collaborations demonstrate Apollo's ability to hold his own alongside established artists, setting the stage for his own breakthrough.
"Threats" Featuring Stunna 4 Vegas:
The latest single, "Threats," is a testament to Apollo The Boss's growth as an artist. Teaming up with Stunna Four Vegas, known for his high-energy flow and charismatic delivery, the track is a dynamic combination of their individual strengths. "Threats" showcases Apollo's ability to craft compelling storytelling with clever wordplay, while Stunna 4 Vegas adds his signature style, resulting in an infectious and hard-hitting collaboration.
Musical Style and Lyrical Prowess:
Apollo The Boss's music is characterized by his unique blend of trap beats, melodic hooks, and introspective lyrics. His songs often delve into personal struggles, triumphs, and the realities of life, resonating with a wide audience. Apollo's ability to convey emotions authentically through his music sets him apart and establishes a genuine connection with his listeners.
Impact and Future Prospects:
With his growing fan base and impressive collaborations, Apollo The Boss is poised for continued success in the rap industry. His dedication to his craft, combined with his relentless work ethic, has garnered attention and respect from both fans and industry insiders alike. As he continues to refine his skills and release captivating music, Apollo's future prospects look bright, and he is undoubtedly an artist to watch out for.
Apollo The Boss's latest single "Threats" featuring Stunna Four Vegas marks another milestone in his rising career. With collaborations alongside notable artists and a unique musical style, Apollo has carved a path for himself in the competitive world of hip-hop. As he continues to release captivating music and captivate audiences worldwide, it's clear that Apollo The Boss is on his way to becoming a prominent figure in the rap industry. Keep an eye out for this talented artist as he makes his mark on the music scene.
© 2023, AMMPRO. All rights reserved.