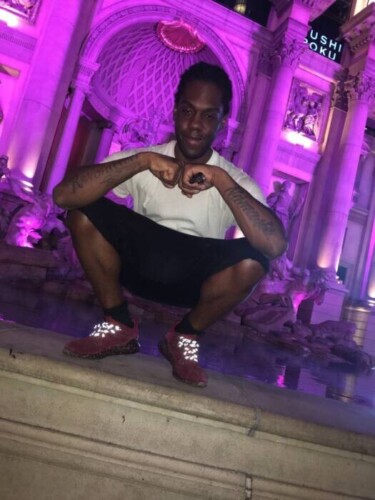 Dom The Realest, the artist hailing from Jersey City, New Jersey, is set to release a new song on January 23rd, titled "B.M.F". This new single is highly anticipated by fans, as they eagerly await to hear Dom's latest offering. The EP  title "B.M.F" stands for "Black Market Forever" and is one of his strongest releases to date. The Ep is likely to be heavily influenced by his experiences in the military and his time in the cannabis industry.
Dom's music is known for its gritty and real storytelling, and this new song is expected to be no different. He is an artist who represents both Jersey City and Los Angeles, using his art to tell the story of the human experience. To Dom, being an artist means telling your story of the human experience. It's having the courage to create your own world and inviting others to experience what you see, feel, hear, think, and touch. Being an artist is the most therapeutic position to be in because you are able to express yourself through creative thought, without judgment, and it makes people feel good.
Dom's love for music began at a young age, starting with his participation in the local school choir and playing in the Ferris High School band. He spent his afternoons rapping with friends and making beats on FL Studio and Datpiff mixtapes, with hip-hop being a major influence in his life.
In addition to his music career, Dom is also involved in the cannabis industry, running a cultivation facility in Los Angeles. Cultivating cannabis has been a long-term hobby of his and he considers it as an important aspect of his life. This unique blend of music and the cannabis industry gives his art a unique perspective that sets him apart from the crowd. Dom's interest in music and art was influenced by several artists, including Styles P, Jim Jones, 50 Cent, Max B and Jersey City-based artists Ransom and Albee Al. He was particularly inspired by these artists and their real-life career development. Dom is also inspired by the human experience, with a particular interest in underdog stories, as he himself was once counted out.
Born and raised in Jersey City, Dom grew up in the Montgomery Projects and moved around the city throughout his childhood. At 18, he joined the army and served until he was 23. After leaving the military, he moved back to Jersey City and started working at Pier 115 in Edgewater. It was during this time that he was presented with an opportunity to work in Trinity County, California in the cannabis industry, which marked the start of his journey in the industry. The release of "B.M.F" is highly anticipated and is sure to be a hit among fans and critics alike. Fans can expect "B.M.F" to be a powerful and thought-provoking project that delves into the gritty and real aspects of life, with a unique blend of influences from the artist's experiences in the military and the cannabis industry. Dom's ability to tell his story through his music and art is remarkable, making him a force to be reckoned with in the industry.
In conclusion, Dom The Realest is an artist who represents both Jersey City and Los Angeles, using his art to tell the story of the human experience. He is also involved in the cannabis industry, using his hobby of cultivating cannabis to supplement his music career. His story of overcoming the odds and making something of himself, serves as an inspiration to many. His unique blend of art, music, and cannabis cultivation makes him stand out from the crowd and is definitely one to watch out for in the future.
https://linktr.ee/domtherealest
https://instagram.com/domtherealest?igshid=YWJhMjlhZTc=
© 2023, Tedfuel. All rights reserved.