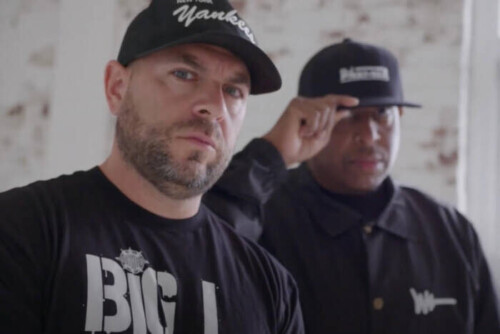 El Gant delivers a scathing look at the downside of the information age in his new video for "Leave It Alone," which plays out like a mini-action movie featuring none other than DJ Premier who produced the track.
The video is directed by The Last American B-Boy, who brings his unique vision to the narrative-driven single off El Gant's latest album, O.S.L.O. With the New York emcee's words as his blueprint, the director captured the spirit of "Leave It Alone" by turning it into the soundtrack for a rescue mission.
The visuals center on El Gant in the role of '90s action hero, a tortured soul looking to make things right for the children and save them from the ills of the world. In this case, the ills are all the screens that so many of us are inundated with on a daily basis, from TVs and smartphones to computer monitors and tablets. For the emcee, it's keeping us from thinking for ourselves, instead succumbing to being trained by what we see. It makes for a stirring viewing experience, and one that couldn't be more timely.
Check out the "Leave It Alone" visuals and head over to your preferred digital retailer or streaming platform to support El Gant's O.S.L.O. LP. It's also available in vinyl in both classic black along with an exclusive translucent light blue edition, limited to 100 copies via El Gant's Rule By Secrecy imprint in partnership with Fat Beats. In addition to Preemo, the 10-track LP boasts guest appearances and production by Ras Kass, Planet Asia, Killah Priest, Bobby J From Rockaway, Marco Polo, J57 and more.
Instagram: 
Twitter: 
© 2023, Seth "Digital Crates" Barmash. All rights reserved.