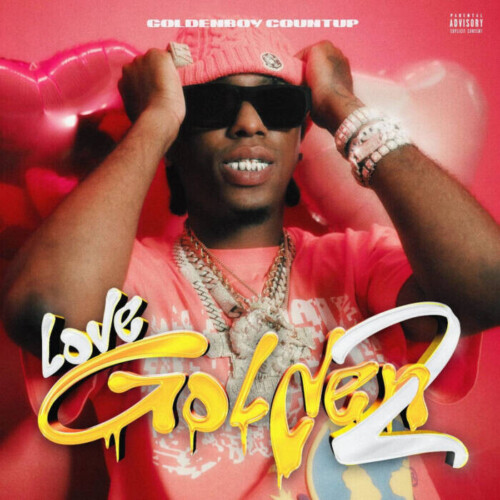 Central Florida rapper Goldenboy Countup has just announced his forthcoming EP Love Golden 2, out this Valentine's Day 2/14, and shared a new video single "Forever" (feat. Loe Shimmy) produced by Southern rap super-producer TnTXD. On Love Golden 2, Goldenboy is backdropped by more airy, smooth production than his previous offerings, alongside heavy-hitting features including other Florida contemporaries like 16-year-old lightning-hot upstart Luh Tyler and crooning songster Loe Shimmy. On "Forever" (feat. Loe Shimmy), Goldenboy's raspy vocal and crashing consonants pop over soft, lilting guitar loops, finding a perfect balance with Loe Shimmy's bright, understated melodies. Florida hip-hop is bubbling at an astronomical temperature at the moment through its interpolation of Detroit-style beats and no-hook song structure largely in part to Goldenboy Countup––and now he's looking to lead the charge for the Sunshine State in 2023 with the release of his forthcoming EP Love Golden 2, out 2/14.
Goldenboy Countup has catapulted himself into the national spotlight by combining the modern sounds of the Sunshine State with heart-pounding, Detroit-inspired production––a trend that has now become commonplace in FL. In the words of Rolling Stone, Goldenboy "sounds like a Michigan artist with a country drawl". This mixed-bag sound has amassed a serious cross-country following, highlighted by the likes of Pitchfork, COMPLEX, The FADER, and more. In December of 202 in a Twitter Spaces hosted by the New York Times along with Questlove, Goldenboy was mentioned as a prime example of how important regional hip-hop is to the musical landscape today. In late 2022, COMPLEX named him among the  '6 Rising Florida Rappers You Need To Know', describing him as "one of the most charismatic new rappers in the state" with a "sense of humor that cuts straight through his songs." Goldenboy closed out 2022 strong with his Chill Golden EP which featured "Standing On", a notable collaboration with his longtime mentor Money Man.
LOVE GOLDEN 2 EP – OUT 2/14
PRE-SAVE
© 2023, Seth "Digital Crates" Barmash. All rights reserved.