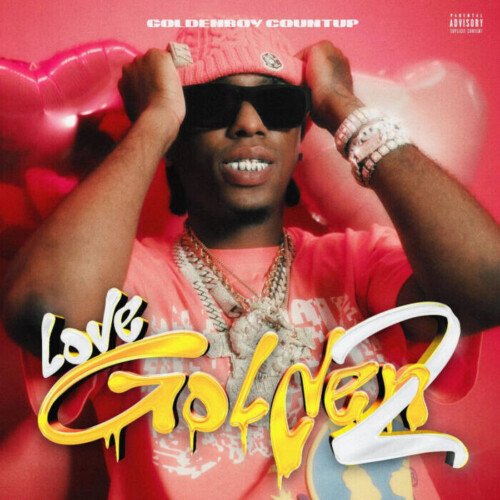 Central Florida rapper Goldenboy Countup has just shared his new Valentine's Day EP Love Golden 2 along with a new video for "Bait" (feat. Luh Tyler). Hailing from DeLand, Florida, located just north of Orlando, Goldenboy Countup has catapulted himself into the national spotlight by combining the sound of the Sunshine State with atmospheric, heart-pounding Detroit-inspired production—a trend that has now become commonplace in FL. In the words of Rolling Stone, Goldenboy "sounds like a Michigan artist with a country drawl". This mixed-bag sound has amassed a nationwide following, highlighted by the likes of Pitchfork, COMPLEX, The FADER, and more. Throughout Love Golden 2, Goldenboy still makes room for his wheelhouse of spacious, Midwest-style beats. On "Bait", Goldenboy teams up with lightning-hot Tallahassee breakout star, 16-year-old rapper Luh Tyler, coined the "the Coolest 16-Year-Old Rapper in America" by Pitchfork. Swimming in a flurry of hundred-dollar bills and beautiful women, each rapper brings his own raspy Florida bounce to a Michigan-leaning blend of hovering synths, ambient piano, and thumping bass. But Love Golden 2 also marks a change of pace for Goldenboy Countup, who reaches further into his Southern rap bag. On tracks like the acoustic guitar-forward "Soon" or the TnTXD-produced "Forever" (feat. Loe Shimmy) and "Your Fault", Goldenboy is backed by brighter, smoother production than usual. After years of grinding in Florida's competitive hip-hop scene and popularizing the trends of Detroit-style beats and no-hook song structure in the state––Goldenboy Countup is solidifying his spot as the Godfather of Sunshine State with his new EP Love Golden 2.
Florida hip-hop is bubbling at an astronomical temperature, and with the release of his Love Golden 2 EP—his third project in the span of six months—Goldenboy Countup is gearing up for a record-breaking year, eager to lead the charge. At the end of last year, COMPLEX named him among the '6 Rising Florida Rappers You Need To Know', describing him as "one of the most charismatic new rappers in the state" with a "sense of humor that cuts straight through his songs."Goldenboy closed out 2022 strong with his Chill Golden EP which featured "Standing On", a notable collaboration with his longtime mentor Money Man. In December of 2022 in a Twitter Spaces hosted by the New York Times along with Questlove, Goldenboy was mentioned as a prime example of how important regional hip-hop is to the musical landscape today. Adored just as much for his eccentric persona as his idiosyncratic sound, Goldenboy Countup makes music overflowing with personality.
© 2023, Seth "Digital Crates" Barmash. All rights reserved.