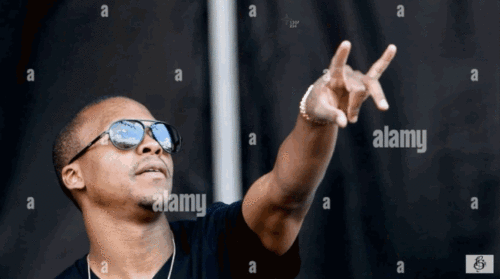 Lupe Fiasco weaves his lyrics into dense webs of double-meaning, encouraging his listeners to put together the puzzle pieces he teases out with his allusive wordplay. Taking his mythology into his own hands, Lupe shares the video for "PRECIOUS THINGS," his latest music video. A Soundtrakk-produced highlight from his acclaimed LP DRILL MUSIC IN ZION, blessed with a hook from Nayirah, "PRECIOUS THINGS" finds Lupe speaking on the evolutionary miracle that is the human hand, exploring the ways we use our hands to fight, feel, and communicate: "I asked for 'Okays,' I got, 'Up yours' and 'Go aways'/Shoo gestures and throat slicers, the motion's made/Give me a sign when we can talk through a plan/But my hands was like 'Fam, you can talk to the hand,' damn," spits Lupe.
Produced by Alberto Angelini, the video for "PRECIOUS THINGS" tells a story through screen-recorded desktop applications, with an unseen user delving deep into an internet rabbit hole inspired by Lupe's lyrics. Guided by fan communities, comment sections, and old-fashioned articles, the explorer researches the origins of Lupe's hand signals, his linguistic gymnastics, and his esoteric worldview. The user gathers data on academic search engines, looks for clues in articles from websites like HotNewHipHop, scours Google Earth, and even resorts to posting questions on Quora, but the answer to the mystery remains elusive. The video takes full advantage of YouTube's new "pinch-and-zoom" feature, allowing viewers to zoom in on all the screenshots that make up the video and investigate the mystery with their own hands.
Released on June 24th, 2022, DRILL MUSIC IN ZION earned critical acclaim from NPR, Complex, The FADER, and many others, including Vinyl Me Please, who wrote "At their best, Lupe's bars are as visually and phonetically pleasing as popped bubble wrap." The product of a burst of thoughtful spontaneity, Lupe created DRILL MUSIC IN ZION over a short period, diving into a folder of beats sent by Soundtrakk and emerging with a fully-realized album in just three days ("Sometimes deadlines are lifelines," says Lupe). The album is home to highlights like "NAOMI," in which Lupe fuses playful political analysis with poignant emotional resonance, and "MS. MURAL," which continues a series of songs that started on 2014's Tetsuo & Youth ("Mural") and continued with his last album DROGAS WAVE ("Mural Jr."), and the jazz-inflected title track, which slyly comments on how art created amidst strife becomes commodified entertainment for the masses. DRILL MUSIC IN ZION earned "Best Of 2022" honors from the likes of Complex, Okayplayer, RIFF Magazine, and The Needle Drop.
Beyond DRILL MUSIC IN ZION, 2022 was a massive year for the iconic Chicago rapper. He celebrated the 15th anniversary of Lupe Fiasco's The Cool, recently certified Platinum by the RIAA, and launched "LFT," an NFT program that allows fans to get closer than ever to Lupe. He blessed his fans with archival releases and loose singles, including the self-produced "100 Chicagos" and "Galveston," an Apple Music exclusive created in observation of Juneteenth. In the fall, Lupe started his position as a professor at the Massachusetts Institute of Technology, where he teaches "Rap Theory and Practice." The rapper is currently teaching his first semester of the course, with plans to continue in the future. Beyond music, Lupe continues to focus on the community organizations he founded, including We Are M.U.R.A.L, The Neighborhood Start-Up Fund, Society of Spoken Art, and his cross-cultural content venture, Studio SV.
With more music and other ventures on the way, Lupe Fiasco has entered a new chapter in his career, but he's not done growing.
"Your whole life you're physically growing, and as an artist, I feel like I'm taller now," says Lupe. "Not that I'm at a higher place of morality, it's that my vantage point and perspective is higher. I can see further."
DRILL MUSIC IN ZION is available everywhere via 1st & 15th/Thirty Tigers.
© 2023, Seth "Digital Crates" Barmash. All rights reserved.