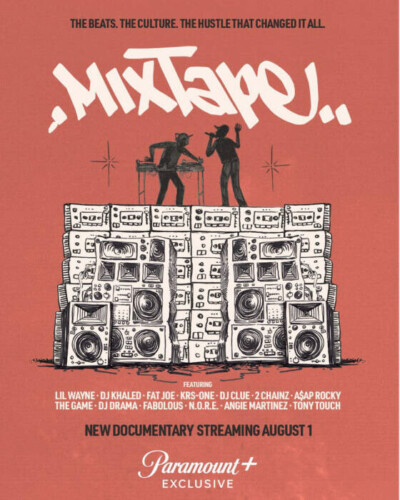 In Celebration of Hip Hop's 50th Anniversary, Documentary Explores History of Mixtape Culture and Features Lil Wayne, DJ Khaled, Fat Joe,
2 Chainz, Big Boi, DJ Drama, Kid Capri, KRS-One and More
Paramount+ today announced that MIXTAPE, a new documentary exploring how the creation of mixtapes launched hip hop into mainstream culture, will premiere exclusively on the service Tuesday, August 1 in the U.S. and Canada and Wednesday, August 2 in the U.K., Australia, Latin America and Brazil, with further international markets to follow later in the year. MIXTAPE is the story of hip hop refusing to take no for an answer. Before radio play, the internet, and social media, there were mixtapes. DJs were tastemakers, trendsetters and creators of the sound that became the biggest musical genre on the planet. The importance of mixtapes goes well beyond the tapes themselves. Mixtapes were a form of currency and a signifier that someone was "in the know" and had their ear to the streets. The culture was too strong to be stopped, and the artists were too talented to be ignored – so they turned the sub-culture into the mainstream, and made hip hop what it is today.
"Hip-Hop is 50 years old and I can't think of a better way to celebrate its journey and contextualize its evolution than through the story of the mixtape. Every voice in this film played a critical role, especially the DJs who, as KRS-ONE says beautifully in the film, risked everything to 'bring us the music'," said Omar Acosta, director of MIXTAPE. Producer Tony Touch added "it's an honor to be involved in this film and to help tell the real story of the mixtape, its origins, its impact, and its on-going relevance for the culture."
The documentary features 2 Chainz, A$AP Rocky, Dante Ross, DJ Bobbito, DJ Clue, DJ Drama, DJ Enuff, DJ Green Lantern, DJ Jazzy Joyce, DJ Kay Slay, DJ Khaled, DJ S&S, DJ Scratch, DJ Stretch Armstrong, DJ Whoo Kid, Doo Wop, Fabolous, Fat Joe, Funkmaster Flex, The Game, Grandmaster Caz, Jadakiss, James Cruz, Jeezy, Kid Capri, Kool DJ Red Alert, KRS-One, Lil Wayne, Mark Ronson, Mike Tyson, N.O.R.E., Ron G, Shaq, Tommy Hilfiger, Tony Touch, Trouble, Tuma Basa and more.
MIXTAPE is produced by MTV Entertainment Studios, Mercury Studios and Saboteur Media in association with Def Jam Recordings. David Kennedy, Tony Touch, Nick Quested and Daniel Seliger serve as producers with executive producers Paul Rosenberg and Barak Moffit. The film is directed and produced by Omar Acosta (Stretch and Bobbito: Radio That Changed Lives). The Def Tape, the official soundtrack to MIXTAPE, is set for an August release via Def Jam Recordings.
© 2023, Seth "Digital Crates" Barmash. All rights reserved.