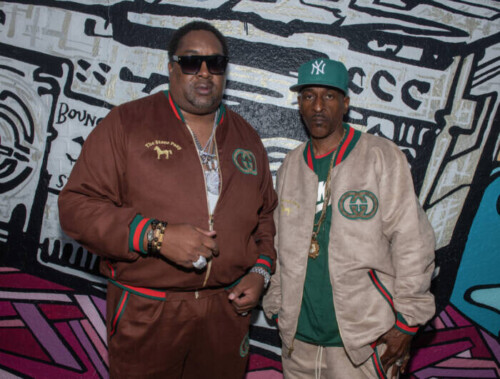 Photo Credit Jeremy Smith
The North to Shore Music Festival celebrated 50 Years of Hip Hop with a history-making moment when hip-hop legends Eric B & Rakim, reunited for a history making moment as the first rap act to perform at The Stone Pony in Asbury Park.

"Performing at the Stone Pony is definitely a dream come true. I have been TRULY BLESSED during my career to have played at almost every premiere arena and venue around the world. So, to be able to be the first hip hop group to play at the Stone Pony, which has been the home to countless iconic acts…especially as we celebrate 50 years of hip hop, is unprecedented", said Eric B.
 
The golden age hip hop duo Eric B. & Rakim, first exploded onto the scene with the release of the iconic "Eric B. is President" in 1986. Their classic album Paid in Full, which sampled funk and soul-driven tracks, was monumental within the hip hop scene and was named the most excellent hip-hop album of all time by MTV. To this day, Eric B & Rakim remain one of the most iconic duos of hip-hop and are considered pioneers in the culture revered by today's emcees for furthering hip-hop's expansion with their unmatched definitive sound.
 
Eric B is a hugely influential DJ and beatmaker whose taste for hard-hitting James Brown samples touched off a stampede through the Godfather of Soul's back catalog that continues up to this present day. More than four decades later, he continues to blaze trails in music, business and on the big and small screens. Rakim meanwhile, still tops fan polls as the greatest MC of all time. He crafted his rhymes like poetry, filling his lines with elaborate metaphors and complex internal rhymes. He played with the beat like a jazzman, earning a reputation as the smoothest-flowing MC ever to pick up a mic.
© 2023, Seth "Digital Crates" Barmash. All rights reserved.