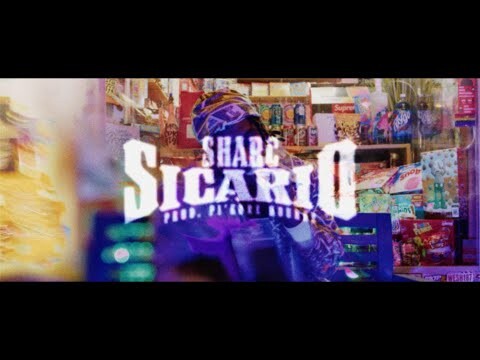 With his effortless delivery and impressive arsenal supply of razor sharp bars, Sharc approaches beats with the instincts of a great white. Linking up with SossHouse CEO Pi'erre Bourne, Sharc shares "Sicario," his new single from his upcoming Pi'erre-produced Sharc Wave project, arriving May 19. Over a dreamlike production by Pi'erre, the Queens-born flexer makes it clear that he will never hesitate to wipe out the competition. The video for "Sicario" finds Sharc roaming the nighttime streets of Berlin, turning security camera footage into a full out performance. Though he's surrounded by a wide variety of snacks at one point of the video, Sharc saves his appetite to devour the opps with his rhymes.
"Sicario" arrives in the wake of the announcement that Sharc will join fellow SossHouse artists Chavo and Jelly on "The Hardest Out Tour" this May. The 4-date showcase kicks off in Houston on May 24th, continues in New York (May 25th) and Atlanta (May 27th) before finishing up in Los Angeles on May 28th. Tickets for the tour are available now at MoveForwardMusic.com
Stay tuned for Sharc Wave, produced in full by Pi'erre Bourne, coming May 19th via SossHouse. 
© 2023, Seth "Digital Crates" Barmash. All rights reserved.